Designer Babies of the Midsummer Night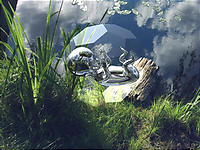 As I briefly mentioned last entry, I participated in a television debate about designer babies the June 23 in the program Sommardebatt. The program can be viewed online, I'm in the second segment debating with Chatrine Pålsson (kd). The debate was recorded on a boat during a beautiful midsummer night in Umeå.
The origin of the debate was the recent decision by the health care of Västra Götaland to fund a trip to Belgium in order to help a couple get a child that was free of a genetic immune deficiency disease, so that the younger sibling could help the older by donated stem cells. The reason for the trip abroad was that Swedish laws are unclear on the subject. Is this an instrumentalisation of the poor child, or just a good way of helping a family?
My position is of course pro-screening. Using preimplantory screening to avoid diseases is good regardless of any siblings that might be helped: the child will have at least one bad thing less to worry about once it is born.
But what about instrumentalisation? It seems unlikely the parents only cares for the older child and solely see the sibling as a medical tool. To go through with IVF, PGD and a pregnancy one has to want a child rather dearly.
In this case I guess the donation is mostly stem cells from the umbilical cord, so there is no real problems about interfering with the baby. But the social pressures involved in sibling donations can be rather frightening. Who can say no when asked to undergo potentially very painful treatments to help save a sibling? (there was a rather melodramatic CSI episode about this) But this is not a strong argument to ban conceiving potential donor siblings (just for giving some councelling, perhaps). First, one could always try to have a child the normal way, which would again put a child in this hard situation (and if the new child was also sick, likely produce a sense of resentment). Second, if one thinks that these psychological risks are great enough to try to prevent children from being born into these circumstances, then logically one should also try to prevent other children from being born into circumstances potentially as bad or worse: parents addicted to drugs, parents with psychological problems, parents in tense social situations etc. Clearly that goes against the generally accepted rule that people are allowed to have children freely and that governments shouldn't intervene into pregnancies.
One could of course argue that it is not the conception per se that should be banned, but the act of doing the PGD for this purpose. It is an active act rather than passively letting a pregnancy happen.
This ties in with the issue of whether tax money should go to this kind of treatment. If one accepts tax funded medicine, then there will always be a problem that some treatments are seen by some as unethical, be they abortions, transplants or stem cells. And since societal consensus is unlikely to ever be total in some of these issues, there are always people being forced to pay for immoral acts. It must be rather horrific for an anti-abortion person to know his tax money goes to finance murder, as he sees it. My own libertarian position of course has no problem here: tax money should not in general go to medical treatments, they should be paid for by insurance systems instead.
On the moral side, I'm convinced PGD is such a good thing that it should be allowed. And this brings us in to the core issues of the debate: the nature of pre-persons and human dignity. Because that is really where both Chatrine and me wanted to go in the program.
The pre-person issue is in my opinion not an issue: everything quintessentially human about a human comes from having a working complex nervous system: the ability to be conscious, to experience sensations, to act, to think, to learn and to make morally informed decisions. An embryo is not a person, but it can become one in time. This means one should treat it carefully if one intends that a person should come into being, but not that it by its nature is sacred.
The opposing view usually is expressed in terms of souls, which usually just seem to consist of untestable handwaving. If one accepts it, then one ends up in the uneviable position of explaining why not people are doing what they can to save the majority of embryos that never attach in the utreus naturally - these are, by assumption, doomed ensouled beings. Just standing by and condoning their deaths would be just as bad as not helping sick children.
There are smarter versions of the embryo-as-person argument, but space and time are limited here for the moment, so let's skip on to human dignity. But it is important to note that the above differences in view are deep philosophical differences that cannot really be resolved by empirical facts; society will always contain those who hold one or the other position, and a total consensus will not happen. One side could impose its will on the other, but it would not be moral to do so from the perspective of a pluralistic liberal democratic view of society.
Chaterine expressed worry about where these developments are taking us. To her, we are sliding down a slippery slope towards a degradation of human dignity. I think the reverse: we are becoming better at achieving human dignity.
Again the difference lies in philosophical outlook. My view is basically Mirandolian: the essentially human, that which gives us our dignity, is our ability to change and improve ourselves - both individually and as a species. We are free. As long as modifications give children greater freedom to live their lives they are acceptable and good: freedom from diseases increase life chances, as does longer life, higher intelligence and so on. This is basically Ronald Bailey's "would a reasonable person consent to having particular genetic traits or not? approach to deciding ethicality.
Opposed to this is the view that people are more things than processes, that there is a natural (or divine) order that one shouldn't contradict. Sometimes it is expressed secularly as the idea that it is better to have a random genome than a selected one. But this is a very weak argument, as demonstrated (again) by Ronald . Further, even if I could control every gene in an embryo, it wouldn't give me control over the person that emerges. While I could certainly bias him or her in different ways, the unfolding of the mind is deeply uncontrollable: a chaotic interaction between genes, environment, randomness and the emerging person's own decisions. Designer children would be as unpredictable as ordinary children, and parents hoping to get a very particular result are bound to be disappointed. But the solution to that is again not banning the designer children, but to give people reasonable expectations.
But the above secular argument is not really a core argument. I usually find that people hold a deeper worldview that just tries to express itself in accepted secular manners. The natural/divine order is the emotional core, and it won't go away. But it is also a particular worldview, not a moral absolute: one cannot base societal rules on it unless it is very widely accepted. Which it isn't; it is a common view, but unfalsifiable and in the end religious, and there are opposing worldviews. Hence society must take a neutral position and accept that some will challenge the natural order and others won't.
Chatrine constantly talked about the need to problematise scientific advancements and have a broader public debate. While I think she used problematise in a far too negative sense, I agree about the public debate. But that needs to go beyond the typical Swedish assumption that deep down we all agree. I think it is not true: deep down we all disagree. But that doesn't mean we can't have a civil discussion about it in the bright summer nights.
Posted by Anders3 at
10:55 AM
|
Comments (977)