Love the World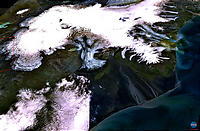 I am in love. I downloaded NASA World Wind two days ago, and now I can't imagine living without it. A bit like Google.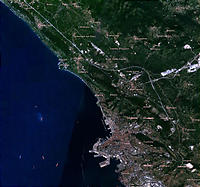 WorldWind is basically a digital globe application that allows the user to zoom in on any part of the world, which is rendered using available satelite photos. But the combination of direct interaction, enormous datasets and extensibility produces a marvelous synergy. None of the pieces are new, but here they turn into art.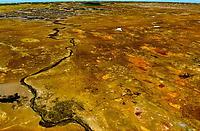 I can zoom in on the Aral Sea to watch how it dries out, with a flick of the mouse scoot over to watch the steppes around Baikonur (I wonder which of the black and red stains are results of the space program). A further gesture and I can explore the Himalayas, follow my mother's trip through Mongolia and then scoot over to Australia to compare desert landforms.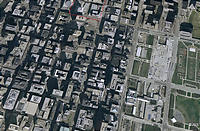 Even better, different kinds of data and animations can be overlaid on top of the globe. Climate variations, satelite photos of recent events, historical treks and nation boundaries. As well as the magnificient (and yet eerie) USGS 1m resolution imagery of urban areas in the US.
This is how I envisioned the program "Earth" mentioned in Stephenson's Snow Crash. A framework for displaying all kinds of geographical information, networked, near-realtime, from a multitude of sources.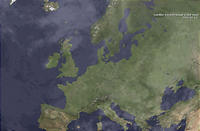 The system is not perfect, of course. A major bottleneck seems to be the bandwidth of the picture servers. When I installed the software I was pleased to see that it used bittorrent for downloading (when I needed to install the 10 times smaller Windows .Net to make the program run the download took 10 times as long). Maybe an extension of WorldWind ought to make the users act as a torrent? Most of the world is not equally watched (it would be fun to get the statistics of where people look as an overlay in the program - a "Am I Hot or Not?" for geography), and people are sitting with copies of the images on their hard drive caches. Use Nasa servers as seeds, and then let the user community share the bandwith burden. Ought to scale nicely.
Posted by Anders at April 13, 2005 11:31 AM