I Can See My House From here!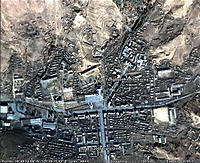 A while back I raved about Worldwind. Now I have Google Earth to rave about.
This is Google's competitor/clone of WorldWind, and it is a good competitor. They both offer similar things but in slightly different ways.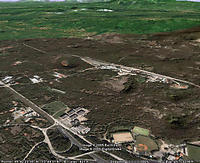 Google Earth is not as dependent on advanced ActiveX as worldwind, but on start it always suggests that I use it instead of the OpenGL that I need on my Matrox card. Making the wrong choice means I have to do a restart of the program and reload the cache again.
The interface is fairly natural. I found most controls fairly obvious, although the tilt and orientation adjustment controls were a bit sluggish - it is nice to get a feeling of momentum, but sometimes it can be too much.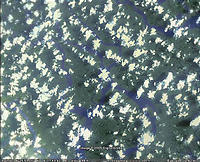 The images used in Google is often not as high qualityas the NASA images. They seem pale, busy and blotchy (compare the arid hot beauty of Worldwind's Sahara with the sandy blotches of Google Earth). Much of this is simple aesthetics and choice of color filters, but often the patches of high density images pollute the appearance from afar and make it harder to make our contours. Close up Google's maps often include too much clouds (bad for use as an atlas, but sometimes quite beautiful in itself).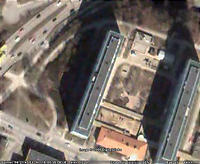 But Google has wonderfully detailled images of many non-US cities. The title of this post is literally true, but I can even see the roofing on my window on the image (it is the next-to-uppermost white rectangle on the right side of the roof of the center building). This makes it even more fun for an European like me. I can look around naval bases in the Stockholm archipelago or explore the Karst landscape east of Treiste. Some important cities are missing, like the inexplicable lack of hi res pictures of Brussels, but that will hopefully be fixed in the near future.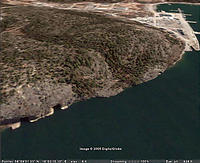 The layering is much more versatile than in Worldwind, although most markers (lodging, ATMs, pharmacies) are mostly useful for americans. The 3D building layer feature is fun, although I wonder how useful it is - yet. Here is where I think the creativity of users in coming up with interesting things to mark and new layers will come into its most. The sheer momentum of the Google empire is likely to help this take off.
Both programs eat processor power, memory and other system resources. I'd like a program that was something that could hide in the background better. Growing up surrounded by maps, I have always had the need to have an atlas handy to check things. But calling up these programs is like putting my father's heaviest folio atlas on the table.
Overall, I think both programs are excellent starts in making a geographical user interface for displaying all sorts of located data. What I would wish for in Google Globe is more useful location labels (they appear rather slowly and at low camera height) and perhaps a pure map layer. WorldWind would probably benefit from having the potentially huge user base Google can drum up, and the potential income from the Plus version.
Posted by Anders3 at June 30, 2005 01:25 AM