Where the Streets have no Tags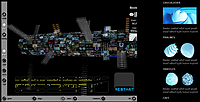 INFOTUBE is a virtual visualisation of a japanese shopping street. (from Information Aesthetics)
One can fly around and browse the stores, see mappings between goods and where they can be bought on the real street, as well as entirely virtual information such as visit popularity (as measured by the branches from the tube).
This is a cool web application, but it smells of early 90's virtuality. Part of it is the aesthetics of icons hanging in the blackness of cyberspace along geometric patterns. But there is a deeper problem here, the attempt itself to map a physical street into a virtual environment.
The tube application is so similar to how I would have gone about this a few years back that it annoys me. I do not pretend that I have matured, but I have become a more active shopper than in my early student days.
The researchers make a good background case why browsing the tube is more similar to a real shopping experience than browsing a website. But do I want a traditional shopping experience when shopping from my computer? Some aspects such as serendipitous finds and social interaction might be desirable, but seeing clothes stores when I am more in the mood for a chocolatiér does not help me. Amazon is busy enough as a website and provides me with far more accurate temptations. Online shopping has far broader potential than just producing a virtual arcade.
Part of the problem is that this is a project about envisioning the future of Motomachi Shopping Street, and hence it is intimately tied to the physical street. The proposal even suggests adding terminals to the street allowing one to explore it through the tube. Nice, but wouldn't just a digital map pointing out where everything is do the same job? I think the basic technique used in the infotube might be useful for some visualisations (selecting television channels? comparing visual styles depicted in the icons?) but that it is dragged down by trying to link to the shops on the street.
The core problem is in my opinion that it starts with a physical street with certain stores and creates a virtual replica, assuming that somebody who would like to use the physical street would like to use the tube, or vice versa. But there is no reason for the stores in the tube to correspond to a stores in a single street. Just as there was a tinkerer alley, cobbler's lane and jeweller street in a medieval city one could put all the chocolatiérs in Yokohama (or the world) on the same virtual tube where one could browse. Other products could exist in their own tubes, perhaps individually filtered and mixed together. After all, I might make the distinction between chocolatiérs and candy stores, while to another user these belong together. Based on our individual tag ontologies the right kind of tube could be created.
Meanwhile, on the real street: here the enhanced shopping experience would be the ability to call up digital information about objects, stores and prices. If I see something I like, I would like to compare prices, maybe see reviews and related items - or not. A key point is to make these interfaces optional. I think an augmented reality system could do the job nicely: maybe one picks up cheap (maybe disposable plastic electronic) AR-glasses at the entrance of the street. These glasses react to optical tags on objects and stores, calling up their web pages. One could likely do the same with mobile phones; they should be reaching the level where they can react to optical tags about now.
For added trust (and hence sales!), allow general googling based on these tags - nobody would trust or like a system that just told the consumer the official truth of the sales force. If the street allows you to examine everything according to your own tastes, you are going to trust it better.
As I see it, future shopping will be about a careful balance between enticing customers by attention-sucking imagery and driving them away with visual spam, giving them market information but also the option to disregard or test it, creating personalised experiences and something shared that is externally created that is not expected. There will be different kinds of shopping and shoppers.
Finally, is it just me, or doesn't chocolate look better a brown rather than electric blue?
Posted by Anders3 at June 3, 2005 11:15 PM