Images of THE Future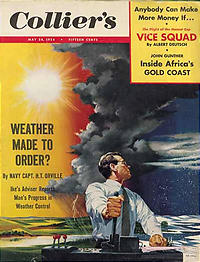 Tales of Future Past is a sharp depiction of the Predictable Future: "It wasn't that long ago that we had a future. I mean, we have one now; the world isn't going to crash into the Sun or anything like that. What I mean is that we had a future that we could clearly imagine. The future wasn't tomorrow, next week, next year, or next century. It was a place with a form, a structure, a style."
This modernist vision of the Future is long past, but we still come back to it for its childhood (or antique) charm, or more worryingly, because it remains one of stability and imaginability. It is the present but better, rid of the pesky problems of the human condition. Even the different utopias and dystopias are firmly rooted in this ordered future, ready to be brought out when needed in a present debate.
Because in the postmodern world the future has become so complex, unpredictable and maybe messily human that it won't do. There is no single future that history must take, and most of the possibilities are either impossible or hard to imagine. The singularity is already upon us!
The result is a fear of chaos. Because to most people unpredictability is not just irritating lack of knowledge, but a real threat - anything could happen, and since most events are bad, it is likely that the unpredictable hides horrific dangers. In the modernist mindset control was possible and the solution. But if control is not possible, then the sea of chaos comes rushing in. A picture not unlike the waters of Nun held back by the law of Maat in Egyptian mythology. This fear of lack of control is probably a human universal, something we tend to return to when not reassured of other possibilities.
Because after all the world does not crash because nobody is in charge. Markets, computer networks, ecologies, evoloution and social networks manage just fine (with occasional bumps). They still (at least the human institutions) require certain core support like the rule of law, people solving problems or people desiring to keep connected to each other, but they do not need a central planner deciding how it all should work. Accepting self-organisation, whether as taoism or liberalism, requires more faith (hopefully supported by insight and observation) than believing in the need for the Great Engineer.
This dynamist conception of an open, self-organising future doesn't preclude us from influencing it. We can influence even if we do not control. We can look among the many possibilities, try those we think work and select those that actually works and build on them. But to do this we need to be better at envisioning futures. But far too often the futures envisioned are the futures past, slightly updated. We need to become better at coming up with instant futures, creating mental scenarios rapidly and playing around with them. This is why I play roleplaying games.
Posted by Anders3 at June 2, 2005 12:51 AM