Happy About Gene Testing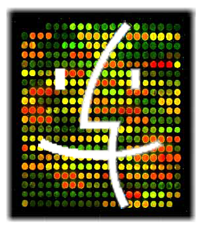 This week's CNE health post is about patient's emotional reactions to gene testing. A common concern is that if people are allowed to test themselves for genetic disorders they will get depressed and passivised if they find out that they are at risk. But a new study shows that people take such bad news well, at least in the case of the Alzheimer risk factor ApoE4. Not only are depression and anxiety indices the same for the tested and non-tested people, but they are overall positive to the testing and adjust their long-term insurance to reflect their new knowledge.
Of course, a lot depends on how the results are presented. Another study (Senior V, Marteau TM, Peters TJ., Will genetic testing for predisposition for disease result in fatalism? A qualitative study of parents responses to neonatal screening for familial hypercholesterolaemia. Soc Sci Med. 1999 Jun;48(12):1857-60.) of familial hypercholesterolaemia (FH), an inherited predisposition to heart disease, showed that parents to children testing positive for FH took the news better when they saw it as an increase in cholesterol levels (familiar, something that can be controlled through diet) than as something genetic (unfamiliar, unchangeable). In fact, a study (that I can't find for the moment) demonstrated that in the case of a certain lung disorder, test results from a child phrased so that they appeared abstract or immutable caused parents to smoke more as a stress reaction! Clearly much work has to be done on how to present results to get maximum health benefits.
The positive attitudes to testing for Alzheimer risk seems to fit with previous studies such as Public attitudes about genetic testing for Alzheimer's disease by P.J. Neumann et al. (Health Affairs, Vol 20, Issue 5, 252-264) where 79% of the respondents said they would take a genetic test to predict whether they would eventually develop the disease. An interesting observation was that people were just half as likely to want a test with 10% chance of being incorrect - people clearly expect genetic testing to be very definitive. Being family or friend with someone affected by the illness also increases the positiveness to testing.
If we can only avoid people holding too much faith in gene tests and the view that genes tell the future, widespread genetic testing - either done as part of normal healthcare or privately - has a good chance of helping overall health. Problems can be diagnosed early or people can keep a look for them, lifestyles and investment can be adjusted to suit one's likely health future. The big losers would be insurance companies legally prevented from knowing what the clients know, and socialised health care systems that gets more and more diagnosed cases.
Posted by Anders3 at June 30, 2005 05:25 PM