Celebrating Creativity... and Intellectual Property?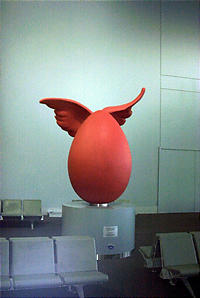 As I mentioned before I'm of somewhat two minds on patents, especially software patents. The aim of the patent system (and IP in general) is to maximise the incentives to be creative and implement good ideas, but it can also hinder and block them. As usual in unclear but important situations people tend to polarize: we are living in an age of IP dualism and demands for orthodoxy.
The June 20 decision by the EU Parliament's Legal Affairs Committee not to accept the amendments to the patent directive that would hinder patents of pure software will likely lead to a parliament decision in favor of software patents next month. I had the chance to attend the European Innovation Day in Brussels, "a celebration of European Intellectual Property and Creativity" by the European Industry on june 22. So how does the industry view the situation, and will it be any good for people in general?
(This is version 1.0 of this entry; due to a television appearance I will finish it tomorrow)
Can you own everything?
The first thing that hit me was the new EU abbreviation CII: Computer Implemented Inventions. For some reason I absolutely hate it. Most inventions today involve computers somewhere, if only in the design process. CII is more specific: devices that contain computers doing something - i.e. software. But due to the parliamentary process the bill first talked about "patentability of computer-aided inventions", then about "computer-controlled inventions" and then the industry prefereed CII. The real source of mud is of course the key issue of whether software is something material - possible to handle as any other invention, or something immaterial, in need of its own unique rules (or lack of rules). One often heard view is that software (or information in general) is immaterial and hence cannot be owned.
But being someone's property is not a physical state of a thing. If the ownership of an object changes, nothing changes in the object or its relationship with other physical objects. What changes is how it is perceived by a group of humans, who now regard it as property of person B rather than A. This might be deeper than merely a social construction, it could well tie in with ancient and strong territorial routines in the cellars of our minds. But property exists as mental "software" (or more properly, data). And this software/data can relate not just to present physical objects (my computer), but to not-yet-existing objects (the books I ordered), processes (my vacation), loosely physical objects as software (my graph program) and nonphysical objects such as ideas (my proof of the Goldbach conjecture). In principle there is nothing that cannot be made the focus of our property-thinking. All these things hold value (judged subjectively by me and other valuators) and we can manipulate their state as property by social agreement. Not all kinds of property are the same; a few have moral limitations (like owning people), and many kinds of property have practical properties that influence how they can be handled: the rules about owning a computer are different from the rules about owning land or owning software. But there is nothing inherent about software saying it cannot be owned in some suitable sense; the real discussion is rather what schemes we should use to handle it.
One of the speakers, professor Philippe Simmonot, extended this argument in an excellent whitepaper that criticised both the consequentialist arguments for or against software patents. It also points out that we already have a de facto software patents in the EU despite the Munich convention, and finally suggests that due to basic economic arguments and the appropriability of software it should by its nature be patentable. Even if one disagrees with his conclusions it is a relevant paper.
But Simonnot was very much a minority at the meeting, since the dominant perspective was a pragmatic political-economical one with no intention to go into the details of software patentability, changing the Munich convention etc. Hence the focus on CII: as long as the software is seen as an integral part of a device, rather than a separate thing embedded into it. This makes the software inseparable from the device, and hence patentable.
Europe is great at this ubiquitious kind of systems, but it should be noted that more hardware independent software is a huge and important market - where Europe lags behind quite notably compared the the US software industry. Now, if software patents are such competition- and innovation-killers as is often argued, it is strange that the US software industry is doing so well (both in terms of market, innovation and number of players), especially compared to the European software industry that did not have software patents.
Celebrating Creativity
Creativity consists of either creating something entirely new, or combining existing things in a new way. IP doesn't apply to the first, unless it is insufficiently new (a good incentive of being really creative) or misapplied (good incentive to improve the IP regime). The second form of creativity can be helped and hindred by IP – if it is hard to combine things because they are overly protected creativity suffers, but if people are stimulated to reveal what they have invented and make it available for further use, then creativity is enhanced.
Striking the Balance
IP of any kind is always a balance between these problems. The same debate recurs from its inception. Abraham Lincoln's classic quote "the patent system added the fuel of interest to the fire of genius" recurred again and again. At the same time, there are other fuels too. The fuel of interest in free or open software is curiosity, aesthetics, perceived need and the wish to contribute – an alternative fuel, but in many applications insufficient. There are few people so interested or dedicated that they try to write free supply chain management software.
One key concept largely missing from the debate but generally recognized by participants when I discussed it with them was the need for a commons, a pool of available ideas, designs and methods everybody can use and recombine freely from. One should remember that one purpose of patents is to promote such a pool by forcing disclosure.

Everybody in Brussels loves the cuddly, fuzzy SMEs. They will one day grow up into export leaders, or just provide the jobs and growth the Lisbon process calls for. How does CII patents affect them?
Several participating SMEs demonstrated inventions, pointing out how CII patents helped them. It was primarily, it seemed, in terms of getting funding. If you have a start-up and a patent, then you become interesting to venture capitalists. This might be one of the best arguments for patents: they force the company to clarify and define what it is doing, and help focus resources on companies that have new ideas. One might argue that this is also a market entrance hinder - patents are not that cheap if you are an unfunded start-up - but that could in principle be solved by making it cheaper to patent.
Apparently about 60% of EU's SMEs are based on patented activities, a rather high number. But there is also the other 40%. SMEs have been heard on both sides of the patent debate, and the impression I got was that it depends very much on the type and aim of the company. Especially high-tech, high-innovation SMEs are in favor of patents and benefit the most.
Preaching to the Choir
The meeting was very much preaching to the choir - not a single FSF or FFII representative were visible, while the room was stacked with MEPs and business representatives. To some extent this makes sense: the meeting aimed to demonstrate the industry view on IP legislation, and the overall view is likely fairly IP- and patent-positive.
To a large extent this was the industry finding its voice: it had been late in realising the need to argue for patents, only reacting when the anti-patent side won the ear of many politicians.
The problem is that neither side understands the other. At the meeting the enemy was a faceless, irrational crowd somewhere out there. And many of the anti-patent groups view the political, legal and economic spheres as equally alien, faceless and potentially malign. Having this kind of polarized debate helps nobody. But it is hard for software people to understand the strange minuets of parliamentary routine, international patent law or the economy of when to pursue infringement, just as to most of the audience the practices of the software professions were strange magic. And when two cultures do not communicate, they build caricatures of each other and their motives.
Many of the fears heard from the free software side about limits to innovations, hinders to market entry, trivial patents being used to cement oligopolies etc were seen as dangers by the industry too. Avoiding the litigation-prone situation of the American system, ensuring high quality of granted patents and transparency in the process were high on the agenda of many business organisations.
One problem is that the standard pro-arguments are that patents produce jobs and growth. It might be true, but it does not convince anybody who is already certain that they are unethical. Similarly, the opposition ideas that imply that many inventions that clearly exist and does involve a clear inventive step, technical applicability and novelty are unpatentable does not win any ears among those who create them. By looking at the classical core of patents, the real reasons we want them, we can reach better compromises and perhaps find better ways of handling problematic aspects of the current practice. But that does require a dialogue.
But as was often repeated, the committee decision was just half-time of the match. Not even a passed CII bill would mean the end of the debate. This is correct: the opposition to patents will of course not stop until it has been thoroughly convinced (hardly likely, just as the reverse is unlikely) or reached a sufficiently good compromise. The debate will go on, and if any side believes it won, it will loose.
Conclusions
Did I get convinced that CII patents are good, writing enthusiastic letters to my MEPs about how they should vote, or did I end up with a reaction and join the FFII?
Neither, of course. The meeting was a good demonstration that patents, even software patents, have many good sides and are not by necessity as evil as they are usually made out. At the same time it made clear that we need to go beyond just the CII bill to ensure that they do what they are intended to: foster creativity and spread ideas. We need to ensure that the EPO actually does investigate prior art efficiently worldwide (very important if you have a 'file first' rule), that trivial patents are not granted, that the length of patents remain limited and that the Commission or Parliament doesn't start enforcing certain business models.
Posted by Anders3 at June 21, 2005 10:59 PM