The Best Prisons Money Can Buy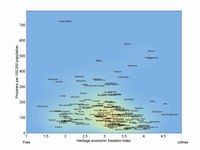 Recently I encountered the argument that the huge number of prisoners in the US is due to its capitalist system. Being a pro-market statistics addict I immediately countered by looking up World Prison Brief and comparing with the Heritage Foundation index of economic freedom. There didn't seem to be much correlation when one compared the numbers for the top prison nations or top free market nations. But how does the distribution actually look? I couldn't resist doing a scatterplot, as well as add a bit of a density field in the background (Tufte, forgive me).
The upper right cluster of Russia, Turkmenistan, Belarus, Suriname and Cuba seems to be a remnant of good old-fashioned socialist oppression (although Suriname is more politically free than the others). The lower right group of Libya, Iran, Zimbabwe and Myanmar suggests more traditional despotism.
The US is a really extreme outlier. Singapore and Estonia are the other notably free-market, high prisoner countries. In the case of Estonia 36% of the prison population consists of foreigners, most likely Russians - the high number likely reflects the problematic situation of Russians living in Estonia, perhaps the major human rights problem for the otherwise impeccable Batlic state. I guess nobody would expect "Disneyland with the death penalty" Singapore to be particularly prison-free.
Underneath them is a cluster of open west european countries (and Armenia), much economic freedom, few prisoners. Ireland and Iceland look really good.
The big cluster consists of very diverse countries, from Saudi Arabia to Sierra leone. Here there really seem to be some kind of (rather low) correlation between increasing economic freedom and number of prisoners. Maybe it is all a matter of economics: running prisons is expensive, and the poorest countries cannot afford many prisoners regardless of level of oppression. Hmm, I ought to compare this with the Freedom House political freedom index and maybe GDP too. It is also likely that many of these countries have far more prisoners than they admit. But that doesn't change the overall impression: economic freedom doesn't have much to do with number of prisoners.
Why the US is like it is, I don't know. It can't just be a high Gini coefficient, because then south america would be up there too. That the high GDP enables a large prison industry seems reasonable, but it doesn't explain that the prisons get filled. Clearly the explanation cannot be directly economical but must be based on a social, political and legal analysis.
Posted by Anders3 at
12:17 AM
|
Comments (27)