A Nicely Alien Curry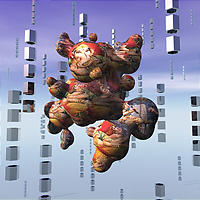 A review of River of Gods by Ian McDonald.
Is this the big Indian sf novel or just a case of orientalism? I really can't decide. But it is a fun read.
The structure is very Bollywood: a teeming person gallery, a number of character whose destinies become intertwined, hopeless loves, betrayal, dilemmas, war and a final chapter where the whole ensemble does a song-and-dance number. OK, maybe not literally, but the climax has enough action and melodrama to fit.
It is all set in a mid-century future India divided into a number of independent states. Bharat, with capital Varanasi, is suffering from drought due to the lack of the Monsson and growing political unrest. In the booming local economy people are happily cutting corners on AI safety and building power production empires based on appropriate technology. AI is used for everything from military vehicles over soap operas and personal soundtracks (a real visionary killer app) to the construction of alien emotions for use as drugs. Gender selection has produced an intense marriage shortage, changing society in unpredictable ways. At the same time old traditions are still observed and Hindu nationalism is a vivid force.
Is this how a future India would be like? I can't say I feel I understand Indian culture very well. I have a hard time understanding the very romantic aspects of it, and I am not familiar with the intellectual discourse within it. So when reading the book I just enjoyed the ride, fairly convinced that the author knew more than I did when giving detailed looks at odd corners of life. Compare the bloodless description of Oxford (just place names, essentially) with the first chapter's overview of Varanasi. But like most sf this is probably a better description of the present than the future. India seems already to be Bahrat.
While China does a prickly-but-mysterious number, India seems more open culturally. As the link between the West and India intensifies year by year, it is no coincidence that one may hear bhangra at European clubs or have German-speaking Indians protest against the hiring of Germans at a call-centre. I would predict that we are going to see a lot more Indian-themed sf soon.
Where the book really stands out is the AI and nutes. The AIs are pleasantly alien, not at all the usual "human in a box" most writers make them. These entities really do have a completely different mode of existence. There is the slight cliché of humans fearing and harassing the downtrodden software and sending special police after rogue copies, but Mr Nandha the fussy Krishna Cop is a great character light-years away from Deckhart. And the big AI characters consistently surprise, especially by being fallible superintelligences.
Nutes are a new sex, neither male, female, both or asexual. While McDonald does not go deeply into their lives (that would presumably take collaboration between Greg Egan and Ursula leGuin) they offer an intriguing glint of something very different. Still, beyond being beautiful, sensual and strange their presence doesn't change anything hugely in the setting. The same goes for the Ais and Brahmins (genetically modified people ageing at half normal speed, with some nasty psychological effects of being adult in children's bodies). But this might not be a case of lack of integration into the setting but rather a sign of how the setting has not yet adapted - there are signs everywhere (and characters comment on it) that society has become distorted and that something must change sooner or later.
In the end the book is an idea overload just like India often gives sensory overload. I like books that instead of taking a single idea and exploring its consequences in detail (that usually works best in short stories) play around with a huge set of new ideas and leave them for further pondering afterwards.
Posted by Anders3 at
03:13 PM
|
Comments (300)