Operant Conditioning Oxford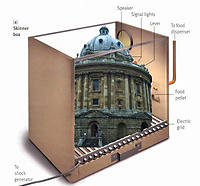 This week's CNE blog is about how I got threatened by animal activists, or rather, how everybody in Oxford got threatened. The militant British animal rights movement has managed to become terrorists in a strict sense of the word - the use of threats of violence to achieve political or religious goals. In the end, I think this approach is self-defeating because it both alienates democratic society (which foots the bills of the attacked research and controls the legal system) as well as the less militant parts of the animal rights movement (who now have to spend much time distancing themselves from the terrorists rather than argue their main point). But in the meantime it can do much damage.
Terrorists seem to try to implement a reinforcement schedule: as long as certain actions are not done, punishment occurs. It is a variable ratio schedule, which is fairly effective (if one knew that there would be one terrorist attack each month or per opposed project, it would be less frightening). The Oxford terrorists are now subjecting a significantly larger number of mammals to an unpleasant experiment than would plausibly be used in any laboratory.
Posted by Anders3 at February 1, 2006 09:18 PM