Fear the Uberlurkare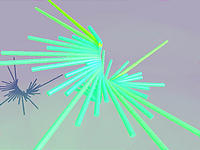 Great! I'm part of a conspiracy again! This time it is the Dagens Nyheter newspaper that fearlessly uncovers the sinister mailing list Elit. Just imagine: people gossiping, using rude language and behaving clannishly - and several of them are famous! It is actually rather fun reading, since it so well reveals the reporter's lack of internet savvy (he doesn't know what a lurker is) and inability to decode irony. A well maintained Internet community becomes a sect, where members apparently live in some sorts of BDSM relationship to the list maintainer.
But the story also has a more sinister side. The mailing list is private and seeks to remain so - leaks inhibit gossiping, and mom is probably more feared than the CIA when it comes to reading internet posts. But the journalist managed a scoop: using a leak he got hold of an archive and mined it for every juicy detail. No doubt he will defend himself that having some fairly famous members there might be a popular interest in knowing who they slander. But does that imply that the presence of even a B-list celebrity in a forum removes privacy protection? People have a right to be rude, egocentric and talk about dirty subjects - it might not be pretty or virtuous, but it is part of life. The article breathes a puritan indignation that somewhere out there people are having dirty fun. There is a righteous air that people should be polite, decent and not network too wildly - or else shut up. A view that is of course entirely contrary to an open society.
This story will no doubt expand a bit, since it also cost one mailing list member her job at Dagens Nyheter. Her membership on the mailing list was enough for the editor to sack her - despite this being a part of her leisure activities, not using company resources. That decision was probably the most stupid thing the newspaper could have done, since it made the news spread like wildfire through journalist and media websites in Sweden. Regardless of the reasons of the sacking - and from the evidence I have seen they do not appear to be strong - this kind of behavior against a journalist tends to get other journalists interested.
News about bloggers being mistreated still occur from time to time. But making mailing list membership a sackable offence in 2006 shows that at least some organisations are several years behind their time - and do not understand the dynamics of news in the Internet age.
[The image is a graphical representation of the number of mailing list posts each day over the last month. Note the intense activity over the last two days as response to the attack. ]
Posted by Anders3 at February 22, 2006 03:27 AM