Sculptures of Brussels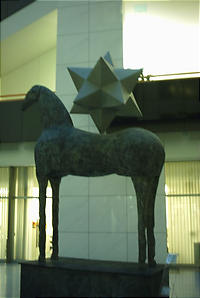 I recently visited Brussels, speaking on pharmacogenomics, gene testing, enhancing drugs and their effects on health policy to . I also took the chance to tour the European Quarter with a camera, looking for sculptures and buildings.
(right) "Berlusconi's trojan horse" the parliament employees call it. The real name is "Zenith" by Maestro Mimmo Paladino. The polyhedron is the small stellated dodecahedron.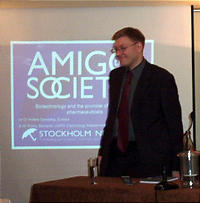 And the next speaker is...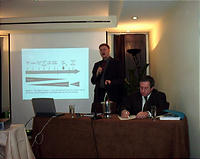 Doing the lecture karakoe.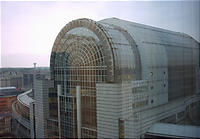 The Parliament building.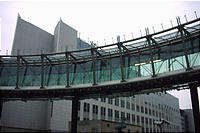 Bridge connecting the train terminal to the parliament. Feel the cozy small town charm of Brussels as you arrive.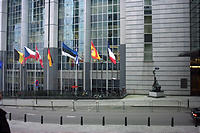 Feel the ever closer union! Raise the Euro! Implement the framework programmes!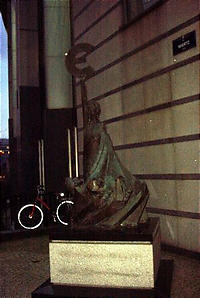 Cute fascism: had this been a bigger sculpture it would have been a modernist-fascist horror. But now it is dwarfed by the mass of the parliament, making it look small and cheeky instead.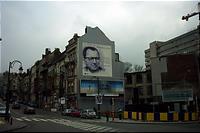 Brussels is the only city on the planet that would use a (very dry and bureaucratic) endosement from Jacques Delors as an advertisement for itself.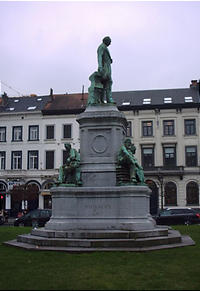 There is a statue of Jean-Victor Poncelet on Place Luxembourg. Nice to see that someone promotes intelligence in the town.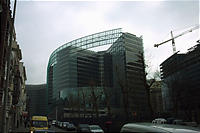 New buildings just west of the Commission building.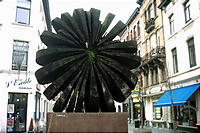 Sculpture near Place Jourdan. Note the elegant combination of natural materials, trash, pollution and moss making the viewer ask himself the essential question: did the artist plan on it looking that decayed, or is it just decayed?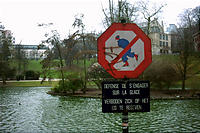 No skating in Park Leopold. Good to know.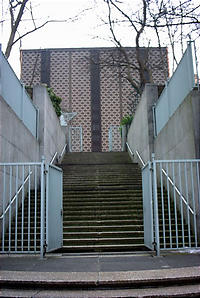 Entrance to the Musée des Sciences Naturelles. Feel the power of SCIENCE!!!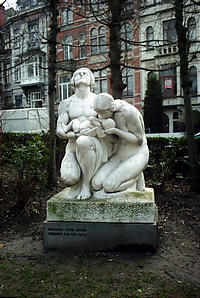 "Who dropped THAT?" Birth of a nation, in a park just nort of Rue de la Loi.

A demonstration that not just Brussels has corporate art. This one is located in my office building in Oxford. It represents time and history, but I guess that is obvious.
Posted by Anders3 at February 26, 2006 06:06 PM