Open but Discriminating Minds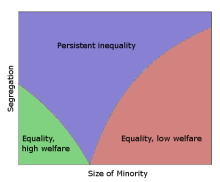 A fun little Santa Fe Institute working paper, "Social Segregation and the Dynamics of Group Inequality" by Samuel Bowles and Rajiv Sethi demonstrates how one can get inequality without discrimination (or difference in ability) due to assortiveness in social networks. It also suggests non-discriminating ways out of it, as well as some nontrivial risks of reducing segregation.
Their model is based on the assumption that acquiring human capital (getting schooling, seeking out good jobs) is dependent on the amount of human capital among one's social circle. It is not necessarily rational to acquire it if few others do, and the ease of acquiring it of course increases with the number of well developed friends.
Social networks are usually assortive: people tend to have mostly contact with people like themselves. Segregation is a measure of assortivity: at total segregation all one's friends belong to the same group as oneself, at lower levels more and more belong to the other group (the model assumes two groups for simplicity). The paper shows that given these assumptions it is possible to have one group far more disadvantaged than the other because it gets trapped in a low human capital equilibrium. It is of course a theory paper, but it shows a potential problem most attempts at dealing with inequality and discrimination misses.
The really interesting part is the analysis of what happens when the segregation is decreased. Below a certain level the unequal distribution of human capital becomes unstable and converges to equality. One can imagine a gradually less segregated society where one minority after another relatively rapidly gets assimilated in the advantaged population. Sounds good, but not so fast! If the proportion of disadvantaged is large enough, the new equilibrium will be about as bad as their original state, but now everybody is down there. There exists two different domains of equal states, corresponding to the disadvantaged rising up to become as wealthy as the advantaged, and the one where everybody ends up badly. An equal society may in itself be seen as valuable, but there are also extra benefits from a larger economy for all - it seems plausible that the general welfare decline does not appeal to anybody but the most radical egalitarian.
This seems to suggest that it is better (or easier) to integrate small groups than larger ones. Everybody wins, and reductions in segregation would be supported by everyone. In the large group case the rational thing for everyone would be to retain the segregation, but the disadvantaged group might be tempted to at least temporarily increase its welfare.
The authors point out that one way of getting from a welfare-decreasing to a welfare-increasing transition is to reduce the costs of human capital acquisition overall. This moves the borders between the different regions in such a way that it becomes easier (or possible) to get to the good equilibrium. Just improving the costs for the disadvantaged group doesn't move the border between the good and bad transitions: for small groups it becomes easier to get to a high welfare equilibrium, but if the group is too large the intervention doesn't help.
Perhaps the trickiest part is to reduce the segregation parameter. The model deals with a kind of segregation that depends on people's choice of friends and relatives, something much harder to fix than repealing discriminatory laws. The authors propose a few approaches, like bussing to create more mixed schools, but it still seems to be a tricky problem to "solve".
From a transhumanist slant the paper suggests an interesting counterargument to the claim that cognitive enhancement will increase social inequality. If it lowers social capital acquisition costs in general, it would increase have a chance to markedly equalize society! Even if the technology diffuses downwards this would work. Just lowering the costs of the advantaged group doesn't seem to change the situation of the disadvantaged group, up until the point where the technology now has become so cheap that it starts to lower costs among the disadvantaged.
It might also be transhumanistically interesting to consider whether there are technological changes that can reduce the assortiveness effect. To some extent the much broader (if with weaker links) social networks enabled by modern society and communications might be doing that. If family (which usually belongs to the same group as a person) becomes less important, assortiveness decreases. Nobody knows you are a dog on the Internet... except through your spelling and interests of course. These technologies still have a degree of assortiveness, and as online social networks are based on shared values or interests they will still have an assortive effect.
Posted by Anders3 at March 13, 2006 08:01 PM