Back to Mars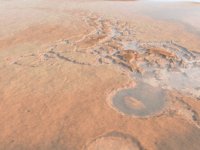 I guess half of the blogosphere has reported it already, but Google has put up Mars maps with the Google Maps interface. It really warms my heart to see my old stomping grounds around New Chryse in the da Vinci crater, the forests of Terra Arabia and the former battlefields west of Ma'adim Vallis... OK, the non-geographical features are due to a lengthy roleplaying campaign I ran a few years ago (some files about it are online) set on a terraformed future Mars. The planet makes a wonderful setting, since it both has a complex geography, beautiful fantasy-like place names and is something far more concrete than a purely imagined world.
Of course, I want to go there for real. Maybe not live there, but at least visit occasionally.
My only problem with it is that unless you are a desert buff, it will be rather barren. You need to do tremendous amounts of terraforming to give it a decent climate and biosphere. I handwaved it a bit in my campaign, but in reality even with megatech and nanotech it is going to be heavy work. Which makes disassembling it to use as materals for a M-brain perhaps a more efficient way of creating complex, new living environment (as Robert usually argues). But there is still something marvellous and worth preserving in what has emerged entirely contingently, without planning. Of course, after disassembling the planet one could have a complete model running much more efficiently in a fraction of the mass. Maybe I'm just a hopeless romantic clinging to antiquated notions of terraforming (or at least ecopoiesis).
Posted by Anders3 at March 13, 2006 07:29 PM