Heritability of Memory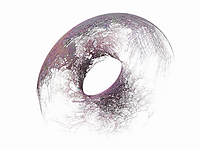 Dominique J.-F. de Quervain & Andreas Papassotiropoulos, Identification of a genetic cluster influencing memory performance and hippocampal activity in humans, Proc. Natl. Acad. Sci. USA, 10.1073/pnas.0510212103 shows that variations in the genes for the proteins that control the memory consolidation cascade affect memory ability in humans. They even correlate with how activated the medial temporal lobe is during memory encoding.
Starting with a list of potential memory-related genes, the researchers found seven with strong correlation to good memory encoding. These were the genes for adenylyl cyclase, PKA, CAMKII, the NMDA receptor, the metabotropic glutamate receptor and PKC. A fairly well-known list to any student of long-term potentiation.
The genetic variations were used to calculate a Individual Memory Associated Genetic Score (IMAGS). IMAGS was simply calculated as the number of memory-improving genetic variations, weighed by how much they predicted better memory. IMAGS correlated reasonably well (0.32) with long term memory performance. It did not correlate with immediate recall (working memory, attention, motivation etc), and a similar measure calculated based on some non-memory related genes did not show correlation with memory.
Human memory ability has about 50% heritability and the paper points out that 90% of the genetic variance remains to be found. So this just predicts 5% of human performance. But it is a start. Looking at the size of the effect of the genes their "power" seems fairly evenly divided, with ADCY8 and PRKACG at about 18% and GRIN2A, GRM3 and PRKCA at about 10%. If that curve were to continue there would be a long tail of other genes. But the total influence should sum to one, and the tail beyond the known genes to 0.9. That suggests to me (based on lots of squinting at figure 2 and intuition, caveat lector) that there is likely a bunch of other influential genes, but their number is likely of the same order of magnitude as the found genes - we should expect maybe 10-20 big genes providing more than 1-2% of the genetic variation, not 100, 1000 or just
one. That is half-cheering if we want to enhance them: a reasonable number of targets, but selecting for so many genes will be tricky, and enhancing individual genes will have a fairly minor effect.
Posted by Anders3 at March 14, 2006 12:47 AM