Tomorrow People Are Breaking Out All Over the World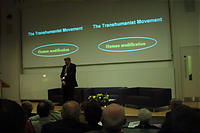 I'm at the James Martin World Forum 2006. The theme is "Tomorrow's People: the Challenges of Technologies for Life Extension and Enhancement". So you can guess I feel right at home. I will update this entry with more details as the conference develops.
[ Added Thursday 17: Actually, to a large extent my comments can be found on the discussion board, where I have been posting intensively. I'll add entries to this blog based on the conference later instead. ]
If there is anything the debate shows it is that human enhancement ethics is actually getting somewhere. The philosophical or sociological case for ruling enhancement out altogether is very weak even if expressed occasionally fiercely and at high government levels. Instead, we need to look at particular proposals and judge their particular problems and opportunities.
The two keynote speakers James Martin and Joel Garreau expressed the thought that we might need enhancement to solve many of our problems, and that it is likely to become widespread for its own reasons, so we better find ways of directing the development towards favourable outcomes.

Posted by Anders3 at March 15, 2006 12:29 PM