Neuroethics, Neuropolitics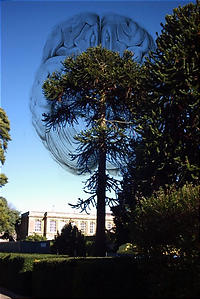 Today I attended a stimulating seminar on neuroethics here in Oxford. Each speaker had their own take on what neuroethics was, providing a refreshing mix of perspectives.
Dick Passingham discussed the possibility of advanced lie detection and whether that might threaten integrity. His reasoning was that plausible systems would be fairly limited, and that it is entirely possible to use biofeedback to learn to fool them. A good point, although sufficiently exotic measurement methods might of course require acquiring equally exotic training equipment - getting a galvainc skin response meter is easy, but a fMRI system is not (for the foreseeable future).
Kathleen Taylor held an excellent talk on brain editing. If we assume it will become possible to edit away certain neural networks, like (say) ones causing inappropriate sexual thoughts, what are the ethical and social issues? She quickly went through the usual medical ethical issues (side effects, problems of developing it, long term effectiveness, risks, autonomy, privacy etc) and then got into a very interesting sociological analysis of the different frameworks used to judge interventions. In the medical mental framework the doctor and patient have particular roles, with a strong centering on the needs and desires of the patient. When the patient is not sufficiently autonomous, for example due to mental illness, a mental illness framework is used instead where the doctor is given greater control. But the aim is still to help the patient. On the other hand, when a crime has been committed (the criminal is assumed to rationally chose to do what he does), we use a criminality framework where the rights of the criminal become radically circumscribed due to his moral culpability. But in cases of deviancy such as pedophilia the criminal framework is mixed with the mental illness framework. Due to various social psychological processes such as essentialisation (a trait of a person, like pedophilia, is seen as the core of that person rather than just one property among others) and stereotyping the person practically loses all rights - both freedom and the right not to have his mind modfied. Deviants have no rights, they are not part of our "universe of obligations" psychologically speaking. And since deviancy is to a large degree a socially constructed class (Kathleen stressed that there certainly are real kinds of deviants, but the entire class is very much culturally defined and not a natural kind) this means that governing powers gain tremendous access to forcibly "adjust" these people, and possibly also expand the class if politically expedient. Hence brain editing technology ought to be kept out of the hands of politicians, marketers and the military. Good luck. But I think her analysis is spot on, and a good case of neuroethics actually daring to become neuropolitics.
Neil Levy, in whose honor the seminar was held, described some ongoing research in treating PTSD with propranolol. The idea is to stop the vicious circleof a traumatic, strongly encoded memory being triggered and in turn triggering adrenergic reactions that re-encode it strongly. But Neil argued that if the somatic marker hypothesis holds, the treatment might also affect the moral judgement afterwards of the events (not necessarily for ill). It will be interesting to see what the results are.
Guy Kahane explained in the day's most philosophical talk the ethics of brain reading techniques: do we have any right to mental privacy. His conclusion seems to be that most arguments for mental privacy fail, but there is a Kantian argument about the difference between our mental and behavioral worlds that holds ethical water. We can decide whether to act or not, but we cannot decide not to think. Hence the "deliberative backstage" of our minds is different from our external actions, and need particular protection.
Morten Kringelbach talked on pleasure, desire and deep brain stimulation. After a very good historical overview that seemed to show that pleasure is creeping ever more frontally the more it is researched he presented the modern models (a la Edmund Rolls). The most interesting aspect if of course the mounting evidence that desire and pleasure are possibly separable - there might be developed stimulations that give pleasure without desire. Let's hope it is possible.
Finally Susan Hurley talked about her shared circuit model of cognition. Her take on neuroethics was as an explanation of how subpersonal systems enable an ethical life. The circuit model is a nice account of increasing levels of sophisticated modelling of the outside world, from homeostasis over predictove simulation to mirroring, simulative mirroring and eventually the internal generation of counterfactual input (see her papers for detail). It all seemed to fit in nicely with the account given by Peter Gärdenfors in How Homo Became Sapiens and Kohlberg's moral stages.
Very stimulating, especially since it was obvious this is a field in exciting rapid development. As soon as it will gets more well defined it will become stable and boring. By then I expect we will hopefully be on the barricades (or at the conference centers) hashing out tomorrow's neuropolitics.
Posted by Anders3 at March 7, 2006 12:01 AM