The Poisson Process of War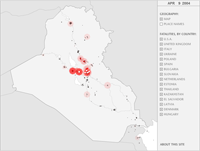 Iraq War Fatalities (via Information Aesthetics) is in my opinion one of the best data visualisations around right now. It runs at ten frames per second, one frame corresponding to a day. This way the Iraq war so far is displayed over a few minutes. Each fatality appears as a dot (size and tint denotes number of simultaneous fatalities) with an audible click. The result is that one can experience the situation both in time and space.
This is a very Tuftesque time-space narrative, even down to the sober grayscale-red coloring. The important lession from the data is the temporal patterns: a steady (Poisson process?) background overlaid with bursts, and no clear increase or decrease.
As a statement about a war it is on par with Minard's plot of Napoleon's war with Russia - as statistically objective as possible, damning the activity of warfare itself quietly and exactly.
It is always fun to think about improvements. Armchair scientific visualisation, all the fun without the hard work.
One idea would be to have a scrolling marker showing ticks for the fatalities. This would help support/disprove the intuition of nonstationarity.
Perhaps it would be interesting to have a scrolling timeline of other events; it might be too busy, but it would be useful to see if there are any correlations with, say, the election or statements from leaders.
It is too bad that there are no reliable sources for Iraqui casualities, since they of course ought to be represented in the visualisation. I have also pondered whether it would be a good or bad thing having differently colored markers for different nationalities. My guess is that these same color markers keeps the visualisation clean enough to do its work: having two or more hues might make the perceptual processing to cumbersome to handle the temporal data.
The strength of this visualisation lies in its clean simplicity. It is far easier to overload than to underload a visualisation. It might also be extendable to other conflicts, both as a global map or a local one: the core idea of sonified clicks and event markers leaving traces is a very solid one.
Posted by Anders3 at July 1, 2005 12:29 PM