A Low Zenith Angle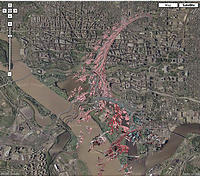 Bruce Sterling's Zenith Angle could perhaps be described as "Bruce Schneier goes to Washington". It is the story of a computer science genius who decides to do the patriotic thing and help the US to fight in the post 911 cyber battlefield. Hillarity ensues, or at least satire.
Unlike the more political Distraction (the other Sterling novel besides Schismatrix I really love) this shows the landscape from the outside. The protagonist Van is never a Washington or intelligence insider, and the niches he find for his work are strange both to him and his surroundings. In the end he might be the grain a pearl accretes round - assuming the oyster doesn't expell or digest him.
As a novel I was not too impressed: structurally it is far too random and often feels unconvincing - the main character stumbles from one odd situation to the next without any sense of direction, and the real villains are introduced late and too over the top to be convincing.
But it is not as a novel about a nerd coming of age as a cyberwarrior or a strained marriage between two intelligent academics that Zenith Angle works. Where it works is as satire and critique on the world of anti-terror government agencies, lobbying and cyberwarfare hype.
Often these critical rants are extremely entertaining, such as a longish one explaining exactly why national computer security is impossible. It is bitter, it deflates Internet, the software industry, Microsoft, Linux, Wi-Fi and the whole Digital Revolution and it is right on the money (but I'm too much of an optimist to see it as a major problem).
The key insight of the novel is the similarity between the Dot.Com-bubble and the War on Terror: they are both bubbles, built from self-amplifying expectations with relatively weak connection to the real world. There are real business opportunities and terrorists out there, but their reflections into stock markets and Washington organisations are distorted and made into tools for the internal agendas.

Cyber warfare is by now hyped to death, and everybody has found new names for it so as not to sound ridiculous. I'm not entirely sure there is anything there yet; it might be a new paradigm in the making, but it has not yet crystalised into anything useful. Sterling suggests that beyond the sexy name that attracts governmentbeings (until the hype runs out), if there is anything real underneath it might be so incompatible with How Things Are Done that it will not fit into any of the present structures. Cyberwarriors might be ronin or ninjas, impossible to fit into the system and of doubtful legality. At the end of the novel, there is a hint of who might want to recruit the real cyberwarriors, and it rings worryingly true.
Bunker's prescient paper about five-dimensional warfare points out the risk the new possibilities pose for the traditional world of politics and warfare (and was chillingly demonstrated in 911), but it might turn out that it is not possible to reliably apply the insights to make the traditional world to fight back: to do so it has to become something unrecognizable. It is the new actors, or parts of the traditional establishment that are willing to change, that can build in these capabilities. But even here the principle of incompetence might rule: most will fail utterly, but we will only remember those few that actually (out of sheer luck, genius and opportunity) succeeded. This is impossible within the traditional stasist, statist mindset.
But it could also be that beyond the "new paradigms of warfighting" cyberwarfare is just a set of tools to extend policy by other means, not some new unified battlefield. SIGINT, software intrusion, games of economic-technical manipulation, ubiquitious surveillance and massive internet exploits stand open to any parts of the intelligence community, armed forces, government agencies or for that matter, corporate and private actors. There is no cool cyber battlefield, but just a huge mess with different actors fumbling about in the dark.
Sterlings brand of dark techno-enabled satire seems to suggest that both possibilities are true. Heroes and villains mess things up, and later explain it away by saying they were intending it all along.
Posted by Anders3 at July 4, 2005 02:22 PM