Merry Newtonmass!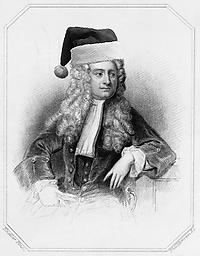 This is the time of celebrating family, calories, capitalism, the solstice and Sir Isaac Newton, i.e. things that make life worth living!
Just to add some random content:
The BMJ is as usual filled with interesting tounge-in cheek studies. Dissappearance rates for teaspoons (seems to fit in nicely with the linen study a few years back), the use of Cinderella and other literary allusions in biomedical titles, hangover prevention and the accident-reducing effects of Harry Potter books.
On the humorous information design side, I found this wonderful series of charts answering "why you should continue to date me" (via information aesthetics).
On the information physics side, secure classical communication might be achievable using just two resistors, computers exhibit chaotic performance and quantum time travel seems to work fine as long as one accepts that the future is probabilistic, the past deterministic and there are huge probability currents along CTCs.
There is also a Christmas mini-grow. Grow is one of the most amazing game concepts I have come across, taking a combinatoric (I would guess NP-complete) problem and turning it into nice cartoon fun.
Posted by Anders3 at December 25, 2005 12:09 AM