Merry Newtonmass, Second Iteration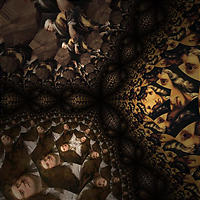 A small addendum to the previous post. I just couldn't resist celebrating Newton by making a fractal portrait of him.
I placed three different portrait images in the complex plane, centered on the roots of z3-1. I then used the usual Newton iteration formula for coloring each point after the color found in first the pixel of the portraits it ended up in. The number of iterations was used to darken the pixel, making the Julia set of the iteration appear in black.
The distortion of the right field is rather extreme and not too flattering, but it fits the warped personality of the guy.
Posted by Anders3 at December 25, 2005 04:06 AM