Nutrigastronomics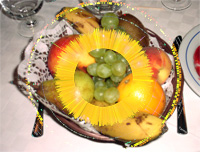 Last week's CNE blog was CNE Eat Your Greens – If You Have a Faulty Gluthatione s-transferase: how having faulty enzyme genes helps protect against (some) cancers.
It is not exactly surprising that there is a variation in how the body breaks down healthpromoting chemicals in food given how wide variations there are in drug metabolism.
As always when there is a new medical area, ethicists rush in. The concerns are largely the expected (when to market, consumer protection, privacy, equity and regulation). And again, the goal is to 'foster public debate' - if ethicists avoid being normative, they will leave the formulation of normative statements to non-ethicists.
Personally I have always thought that the real issue is nutrigastronomics: making use of genetic information to enhance the pleasures of the table. This goes beyond nutrition, molecular gastronomy and functional food. Recognizing supertasters is just the beginning: the next step would be to identify brain systems and metabolic variations that affect eating enjoyment. Of course, the step after that is to engineer ourselves so that we can enjoy a wider range of pleasant tastes, just like modified mice.
Posted by Anders3 at December 21, 2005 11:06 AM