The Economic Beauty of Seashells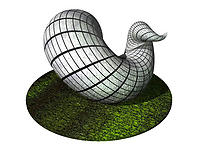 A review of A Natural History of Shells by Geerat J. Vermeij.
While the Algorithmic Beauty of Seashells by Hans Meinhardt focuses on the patterns of the shells, this book is about their substance.
Why care about seashells? Because they are a made of a natural organic-inorganic composite material with fairly impressive physical abilities. Their long evolution has found many clever solutions to design problems we can exploit when we start building using the same principles. In the end much of our technology might end up borrowing ideas from the self-assembly and clever structural strength maximising microarchitecture. And they are of course marvellously beautiful.
A key point is the author's questioning of the often assumed optimality of evolution. It is common to assume that since individuals of the same species compete with each other evolution will lead to locally optimal designs. If a design isn't optimal in respect to a factor we will tend to look for some other factor that shows the extended system to be in an optimal state. But he points out it might be enough to be better, not the best: for many properties the evolutionary drive might saturate once a problem is solved, and other factors become more important to optimise.
An example might be shell composition: since the calcium carbonate in shells tends to dissolve in cold seawater it would be efficient to use calcite rather than aragonite shells in cooler regions. They are indeed more common, but there are many exceptions. Instead the dissolution can be counteracted by a covering skin (periostracum) or symbiotes, or just accepting a certain amount of dissolution.
The main issue for the snails seems to be predators rather than achieving economy in building. A strong defence may be more economical than a weaker defence despite the metabolic cost. But again, the solutions to the problem of not being eaten are manifold and seem to change with surprising speed. In a very interesting chapter near the end (the chapter order of the book did not feel entirely logical) he discusses how the different tropical and arctic shells differ. Even a relatively short evolutionary period like the one after the sealing of the Panama isthmus seems to have allowed radical differences in strategy on its sides.
Another mystery is why most but not all shells curve the same way. Individual shells are occasionally found reversed. In the evolutionary past there have been families curved both ways, and there are recorded transitions between left- and right-handed forms, even inside the same species. But most go from left to right. There are tantalising hints that there is some particular advantage to being right-handed, but they are hardly certain.
It is interesting to read the nature descriptions made by a blind naturalist: they are vivid and personal, and were it not for the complete absence of references to colour they would seem entirely normal. I just wonder how he perceives the swimming movements of scallop shells.
When I started this review I did not know that he had written a new book, titled Nature:
An Economic History that seems to continue the thoughts in this one. I definitely think I will look it up.
Posted by Anders3 at January 25, 2006 03:55 AM