The Day K Days Before Tomorrow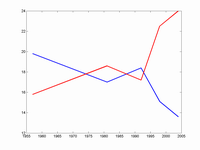 The paper by Brydem Longworth and Cunningham on Atlantic circulation in nature has triggered a flood of stupid climate speculation. Here is my own contribution based on dynamical systems.
This paper is good news if you believe that anthropogenic CO2 is the cause of the slowing. Because it implies that we have a rapid regulatory feedback. In fact, far faster than most experts seem to have thought.
The traditional view of deep oceanic circulation is that it is very slow (thousands of years), so a change in ice formation/melting will produce a delayed shift (still faster than the actual water current, though - just like electrons in cables move only a few mm per second while the signals move at a fraction of lightspeed). But that delay tends to destabilize systems: if the cooling today depends on the temperature X years in the past, it is more likely that the delayed response will act to amplify variations today.
If warming since the 50's is enough to slow the Gulf stream we should be happy: it is likely to extend arctic ice sheets (great coolers) and counteract the warming with a short delay (about a half century, perhaps). Things may of course not be great, but we at least have a self-stabilizing climate. If the delay was longer we might get the weak gulf stream during a cooler period (say after the Kyoto XVII protocol) and move into an ice age instead. Oops, a Younger Dryas event again! In fact, this kind of very rapid feedback seems to undermine the standard explanation of that event.
It should be noted that the 30's to 50's was a notably warm period, with a cooling afterwards to the early 70's when the temperature started increasing again (never trust climate graphs not showing the entire 20th century! and always make sure the locations of the weather stations are not getting urbanized!) For a wonderful review, see John Baez temperature page and illustrations. Maybe we are seeing the effect of the mid-century warm period as the cooling in the 60's and 70's? It doesn't seem to fit the data, but it is an interesting idea if the feedback is fast.
Here is a simple example, a set of coupled delay equations I whipped together. They were inspired by the climate issue but are no climate model (some signs are plainly wrong, it actually makes more sense if one switches the meanings of the ice and temperature variables): the point is to demonstrate the effect of increasing delay.
deltai=-(1-temp(t))*golf(t)
ice(t+1) = ice(t) + dt*[deltai]
temp(t+1) = temp(t) + dt*[(1-ice(t-K)-.1*temp(t))]
golf(t+1) = golf(t) + dt*[-deltai + .1*(.5-golf(t));
Running this with dt=0.1, 1000 timesteps and different amounts of delay K produces the following: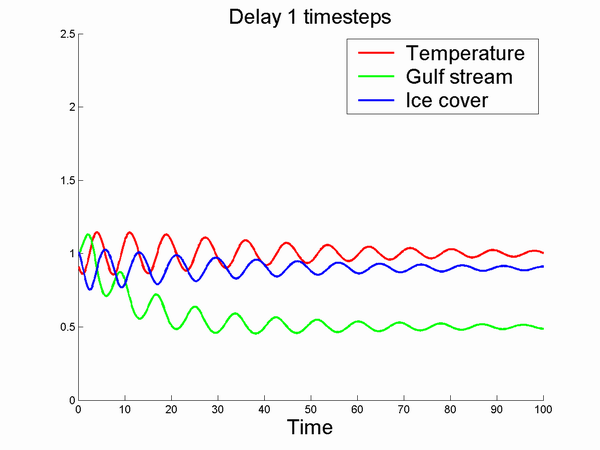 A nice convergence to a steady state. Increasing K makes this steady state oscillate more and more: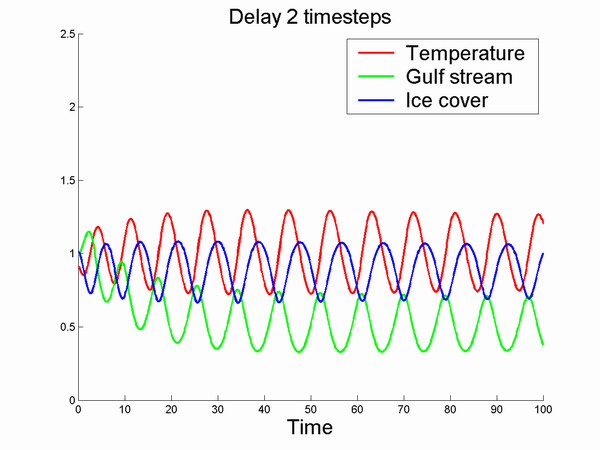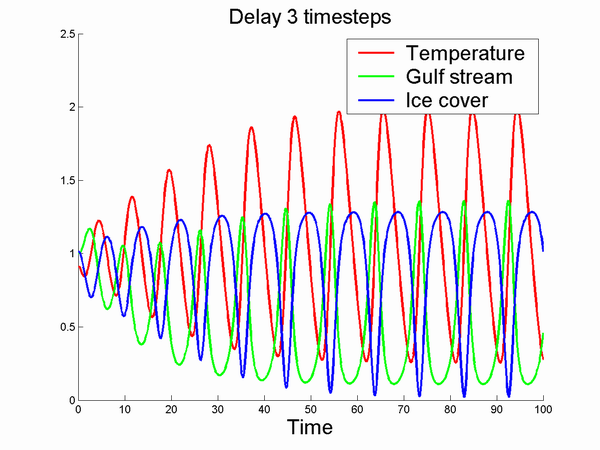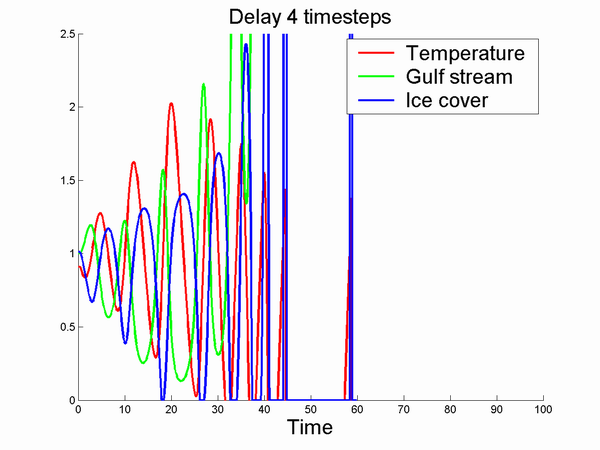 I wouldn't want to live in the last simulation.
Increasing delays means increasing instability in general since they promote overcompensation. An old feedback classic.
This is why The Day after Tomorrow is so absurd. Global warming makes the gulf stream stop, and immediately (weeks) the north hemisphere freezes over. The amount of salty deep water that would produce would jumpstart a gulf stream like the world has never seen before, probably melting the icecap even faster. The assumed short delay in climate response makes the whole movie stupid. In fact, had I written the end of the story I would have threatened the world with exponentially increasing oscillations instead. At least that is a new climate disaster.
People often defend that awful movie with "but at least it gets people to think about the climate". The problem is that it promotes simplistic thinking. The climate is a complex dynamical system that clearly has several metastable attractor states, but also demonstrates a high degree of resiliency. If it did not we would all be cooked or frozen.
The moral ought to be that if we dislike what the climate is doing - for whatever reason - and think we can affect it - through whatever means - then we should consider controlling it. Most climate discussions focus on reducing economy and the effects of civilization rather than fixing the climate per se. That is why it took so long for ideas of carbon sequestration to be accepted and why organisations seem more interested in debating how to stop climate change while agreeing that it is unlikely to succeed than the more practical matter of adapting to it - it is the aims that are important, not the result. There is a strong stream of antimodernist ideas from Rosseau and onward linked to environmentalism that make proponents more interested in being anticapitalist, anticar, antiindustry rather than being primarily for a nice climate (however defined - I want Scandinavia to have a climate and ecology like the bronze age heat maximum myself).
In the long run we better control the eigenvalues of the critical points of the climate dynamical system. That is both the practical and moral thing to do.

In writing this entry, I ran across www.chooseclimate.org that has a wonderful climate simulation applet one can experiment with. We need more such tools to make people aware of the dynamical properties of world systems. It would be rather interesting to combine it with an economic model too, to let the user see some of the human (rather than geospheric) impact of the approaches.
The site also has a critical review of climate engineering well worth reading (although much has happened since it was written). I disagree with the author's view that climate engineering would be bad because it would suck attention and money away from 'real' climate correction. Such a sociological danger might exist, but should be compared to the rather obvious sociological problem today that attention and money are mainly spent on the current climate change dogmas.
Posted by Anders3 at December 2, 2005 12:22 PM