Synthetic Biology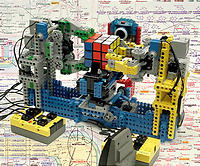 This week's CNE Health blog was about synthetic biology and the youthful feeling surrounding the field, be it cartoons in Nature or biotech jamborees where participants make modified bacteria rather than knots.
Of course, much of what is being done is pretty standard genetic modifications, nothing per se revolutionary these days. It is the marriage between systems biology, easy hybridization, large parts registers and a willingness to approach biology as engineering that is something new. The experience of putting together dynamical systems from software engineering fits in with the healthy hubris of seeing biology as something understandable and modifiable.
In my experience quite a few older (more mature?) scientists tend to view biology with too much awe: the sheer complexity is often taken as evidence that it will never be understandable or managable. To some extent this is of course true and hard won experience. But it is also paralysing. Not knowing that things are impossible is a good preparation for actually doing them (be they multilayer perceptron learning or robustly evolving software code - both by the way a kind of precursors to synthetic biology). Computational neuroscience often suffers at the hands of people who think we have to model every tiny detail in order to make a "correct" simulation. They cannot conceive that sometimes good enough is enough to achieve scientific or practical results.
One thing that I noted in the papers on synthetic biology is the repeated calls for a "synthetic biology Asilomar conference". The premise is that in order to forestall public unease scientists ought to self regulate. But as I have argued in various other publications, a new Asilomar might not work at all. In fact, the old Asilomar conference did not calm public views but may rather have made people more nervous (the scientists are having meetings about how dangerous and how little we know of this technology?!) despite its rather sane decisions. Instead I think trust can be built by getting people into the labs (figuratively and literally), letting them see what is being done, why and by what kind of people - as well as participate. I think the danish leftist newspaper Gateavisen got it right when it proclaimed that genetic engineering should belong to the people. The emergence of a young synthetic biology and biohacking is a good start for a trustworthy people's biotechnology.

The illustration is a composition of the amazing cubesolver by J.P. Brown and a metabolism shcart from the International Union of Biochemstry & Molecular Biology.
Posted by Anders3 at December 1, 2005 10:07 PM