A Schlocky Delight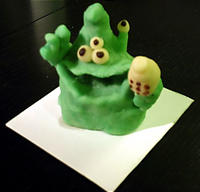 I received a marvellous Chrismas present from my friend Jenny: a sculpture of Schlock made of marzipan! It is even Schlock's current appearance.
For those of my readers who don't know, Schlock Mercenary is one of my favorite webcomics. A mixture of military sf, humor and consistent physics. Besides, who can resist cute megalomaniacal AI-gods with humorous ship naming practices?
The next step is of course to engage in immune system combat with my Schlock. There can only be one!
Posted by Anders3 at December 30, 2005 02:57 AM