Mmmm... Time Machine Donut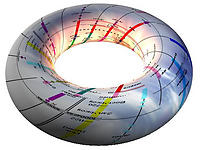 Realistic Time Machine? New design could forgo exotic ingredient: Science News Online, July 16, 2005 discusses a paper by Amos Ori suggesting that one can build a time machine out of a toroid of everyday spacetime vacuum surrounded by an ordinary matter configuration. No need for those hard to find materials that violate the energy conditions.
If I understand the paper right the matter configuration creates a spacetime inside the torus that locally looks like a plane gravity wave; I guess the device acts as a toroidal gravity waveguide. A trip around the torus can move an observer back in time, at least after it has 'geared up' enough: the spacetime starts out normal, and then after a while (whatever that means in this context) develops a closed timelike curve (CTC).
There are several rather strong conditions preventing the formation of time machines. Ori claims to have circumvented them. To get around Hawking's theorems it seems the matter around the torus will have to become singular, perhaps forming a couple of black holes. This might be a case of "chronological censorship" (a combination of cosmic censorship and chronology protection): if the matter enclosing the torus becomes a black hole just before the CTC forms, the horizon around the entire device will prevent any time travellers from leaving. They can loop around as much as they want, but only as far as to the formation of the CTC.
So we have to wait for a more practical demonstration of time travel. Which in itself is a counter-argument to its possibility.
Posted by Anders3 at July 21, 2005 11:24 AM