Informed Consent Enhancement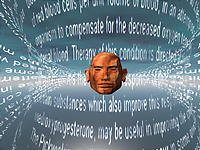 This week's CNE blog was about software to inform patients in order to reduce malpractice litigation (since they cannot claim afterwards that they weren't fully informed). In my opinion the interesting thing isn't avoiding the suits (but that provides a good economic incentive) but finding better ways of informing patients. One idea that came up when pondering this was to use peoples' desire for ego-reinforcement to stimulate themselves to inform themselves.
In my experience, whenever something is done (like a reorganisation, removal of bicycles from the street or change in the laws) there will allways be a few people who come forward and accuse "but I wasn't informed!" This is more of a protection of their self-image than a real lack of information. Usually there has been several announcements beforehand, and while some might have been lost in information overload the rest were simply ignored. Afterwards the self has to be protected (and innocence claimed) by being underinformed.
In medicine this is a real problem, since it undermines informed consent. Several of my friends have described how their doctors overexplain fairly obvious (to them) issues, until they finally appear to understand it. And I have heard horror stories about patients thrice claiming not having a pacemaker before undergoing MRI scans or claiming that they had never undergone surgery when their scars clearly indicated both a cesarean and appendectomy.
In order to have a health system where the patients decide about their health they of course need to be informed. One group of active patients will inform themselves, and pose no problem at all (except when they are misinformed, of course). Then there is a group of passive patients that do not spontaneously inform themselves; they prefer their doctors to tell them what to do. This is entirely their right and doesn't invalidate health choice in any way, but this group also poses a bit of information problem.
But it is the group of patients that actively seeks treatment and yet avoids information that really will be troublesome. These are the litigators and hypochondriacs. The problem with systems like Ellie is that they require a certain amount of active self-education. Even if the doctor plops the patient in front of the computer and goes away to bring coffee, the patient might not be motivated to explore very deeply. Maybe deeply enough to make a malpractice suit later less likely, but not deeply enough to be well informed.
How can we enhance the ability and willingness to inform oneself? People in many fields have worked hard on providing easily accessible and understandable information, solving the first part. But the second is tricky.
As hinted above, I think a key issue is saving face/protecting one's self-image. A simple reson not to inform oneself is the fear that one will not understand the information or act well on it (hurting self-image). That can to some extent be handled by presenting the information as being easily understandable (or 'XX for dummies' - but who wants to be seen reading anything for dummies?).
But maybe a positive approach is more useful: make knowing the information a ego-reinforcing sign. Imagine a system where patients who have informed themselves are given special note, maybe being put in their own queue or referred to specialists more easily. It does not have to be a major difference. It could be just as first class cars on some railways are identical to the second class, but since fewer people buy first class tickets there will be a bit more space and a symbolically ego-reinforcing environment.
This is of course counter to the egalitarian idea of having a equal treatment for all in health care. But this does not happen in the first place: the more active patients do ensure that they get specialist referrals and better treatment by being active and verbal. Only in a totally mechanistic system where the doctors ignore what the patients want and do would treatment be identical, and that is not something anybody wants. The egalitarian vision seeks to ensure equality of outcome - the best treatment possible given the condition of the patient, and there patient education and activity are relevant parts. Someone who can explain their needs more clearly will on average get treatments that fit them better. The goal here is to stimulate active but less informed patients to become better informed, i.e. to enhance their own understanding of their own needs. This is not counter to egalitarian goals (unless perverted into 'one size fits all', which happens from time to time) but rather helping them along. An equality of outcome egalitarian would of course want to extend this to the more passive patients too. I think my ego-reinforcing idea above might help at least some of them to activate themselves.
So my suggestion for extending the information systems is not just to log the information that the patient has accessed the information, but add a little gold star (virtual or real) to the patient record. With enough "frequent reader lines" there might be other perks, but just having a sign that one is informed is reward enough to many.
Posted by Anders3 at July 15, 2005 11:51 AM