Visualising the Eurovision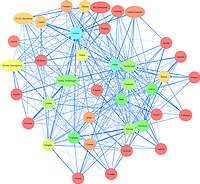 [physics/0505071] How does Europe Make Its Mind Up? Connections, cliques, and compatibility between countries in the Eurovision Song Contest (via Nature)
A nicely lighthearted paper about network analysis of the voting patterns in the Eurovision Song Contest. To nobody's surprise there are nonrandom patterns, like the Scandinavian countries voting for each other and playing tit-for-tat games.
Although I didn't watch the contest, I couldn't resist making a graph out of the 2005 data, shown above. Color of the nodes represents total score (mapped, somewhat gaudily and uselessly onto hue: blue is highest, red lowest - see The End of the Rainbow? Color Schemes for Improved Data Graphics for some color schemes I ought to have used) while points given are shown as the saturation of the blue arrows.
Analysing the contest data seems to be a popular pastime among researchers. Cultural Voting
The Eurovision Song Contest by Victor Ginsburgh and Abdul Noury looks for vote trading and the effect of linguistic and cultural similarity. The data can be used for a cluster analysis tutorial and visualised in various ways. Overall, the voting cliques seem fairly robust, while the dynamics over time is much more uncertain.
Posted by Anders at May 22, 2005 02:49 AM