More web neighbourhood maps
TouchGraph GoogleBrowser V1.01 is a charming web graph applet that I have been playing with recently.
As regular readers know, I have been involved in a neuroscience education/debate project called Se Hjärnan!, organised by Swedish Travelling Exhibitions, The Swedish Science Council and The Knowledge Foundation. In the end the different groups produced several different websites: one inside the web of Swedish Travelling Exhibitions, one flash knowledgebase and a neuroanatomic atlas by C.H. Berthold (as well as assorted internal sites). How does these sites link to each other? Have we created several isolated clusters or does there now exist a "Se Hjärnan cluster"?
I used the GoogleGraph to find out by adding the URLs of the core pages in the different organisations. The results are shown below.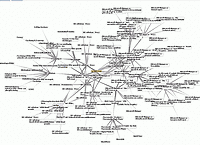 This is the full graph with full names. The core pages mentioned above are the orange one and the two directly to the lower left of it.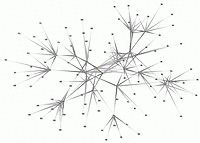 The same graph but with short names. The overall structure is visible.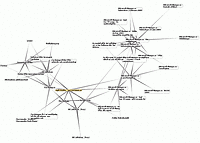 A pruned version, where nodes with few links are removed for clarity. The graph still remains in one piece and the bridge is visible.

The good news is that these sites link nicely to each other, forming a core. The knowledge foundation and science council form one cluster, while travelling exhibitions form a cluster with itself due to lots of internal cross-links. The project acts as a bridge between the organisations.
Not very many external sites show up in the graph, likely because there are many but weak links pointing at these core sites. Over time I expect www.nervsystemet.se to grow into a major authority given its excellent contents once the neuroscience teachers in Sweden discover it.
I also looked at the neighbourhood of this blog: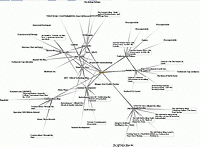 It is nice to know where one are in relation to everybody else.
Posted by Anders at May 10, 2005 11:23 AM