Hermetic kitsch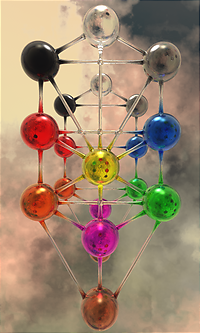 Today I couldn't resist raytracing the image to the right, a rendition of the tree of life of the kabbalah.
I have a somewhat mixed relationship to hermeticism. On one hand I'm a firm materialist/monist, with a sceptical mindset and nothing but scorn for wishful 'magical' thinking. On the other hand I enjoy hermetic symbolism and its ties to the most unexpected areas of western thought, as well as the interesting potential of using symbols and belief to program one's subconscious. Sure, it can be done using more 'clean' psychological methods, but it is more fun (and greater psychological impact) to use complex old symbols with the weight of tradition. It is a bit like kitsch: it is embarrasing, gaudy, tells us a lot about our culture and - admit it - fun.
Beside my more practical objections to hermeticism (i.e. that I don't believe in the underlying metaphysics and think it has a feudal family-normative subtext) I have en epistemological problem with much of the school. It is too arbitrary. Most of the symbolic sets used (the zodiac, the ten sephiroth, the four elements etc) are arbitrary assemblies that are then elaborately rationalised. Much hermetic thought is devoted to elaborating the correspondences between such sets and explaining away apparent contradictions like why aquarius is an air sign.
Take any set or sequence of images, especially concepts and images that can be interpreted openly, and you can with relative ease develop a consistent explanation for why they have to hang together or why image 2 follows image 1. It is the same principle Scott McCloud demonstrates in chapter 3 of Understanding Comics (In my opinion a great book about cognitive psychology), or for that matter the "what the thinker thinks, the prover proves" from Robert Anton Wilson's Prometheus Rising.
I ran into this phenomenon when I wrote a small text about 3D generalisations of lineal figures (pentagrams, hexagrams, etc) to the symmetries of regular polyhedra and it was well received in the online esoteric community. But I realized from the start that my scheme was largely arbitrary: it would be trivial for someone else to factor the symmetry groups in other ways, creating totally different correspondences and meanings. But nobody came forth with a rival scheme. Clearly it was enough to just claim a set of correspondences. That hermetic thinking tends towards accepting authority is one thing, but given that it also claims a kind of pythagorean mathematical internal consistency correspondences should not be under-constrained. Yet this is the case for many esoteric concepts, be they gematria or the tree of life.
The tree of life originates in the Sefer Yetsirah (3-6th century AD) although it can probably be traced to older Hekhaloth mysticism. The basic idea is a fairly neoplatonist account of how creation occured, with different emanations or functions of God manifesting in sequence producing the ten sephiroth. In Sefer Yetsirah the motivation of the number ten appears to be both the number of fingers and the six directions in space, two in time and two "moral" directions. This is loose enough, but the real mess occurs when these ten are linked by 22 paths corresponding to the letters of the hebrew alphabet (the linkage is not that strange, since the letters were also seen as having numerical qualities). The Sefer Yetsirah uses a 3D arrangement of the sephiroth, while the modern tree is a 2D graph (this link is also a good example of the fun geometric/combinatorial games one can play in hermetic thinking). There have been many different arrangements of the 22 paths and the resulting graph, but today just one of the 3 190 187 286 possibilities is in use (and a few different attributions of which letter to which edge). While one can certainly limit the possibilities by requiring certain symmetries it still seems rather underconstrained (especially by the short descriptions in the Sefer Yetsirah). The current arrangement appears to have been crystalised around the early 1600's, as seen in Robert Fludd's widely reproduced image, perhaps even as early as the 13th century in the Sefer Zohar. There have been some ideas of extending the tree into a 3D structure (cf. Israel Regardie's The Complete Golden Dawn System of Magic), but these mainly multiply the sephiroth while leaving the underlying graph largely unchanged.
Perhaps the best and most no-nonsense approach to deriving the tree is Colin Low's Notes on Kabbalah (chapter 1) that actually makes a fairly plausible sounding argument for the arrangement. I still find the paths rather arbitrary, though.
One can of course imagine a die hard hermeticist claiming that the numbers 10 and 22 are constraints (presumably given by deeper origins), and choosing a particular set of paths constitutes a case of symmetry breaking - God is forced to make a contingent decision resulting in a particular kind of universe out of a larger set of possibilities. Maybe our hypothetical hermeticist then runs off to do an argument based on the anthropic principle showing why just beings living in this kind of universe would be conscious of the situation, and so on. Might make a fun paper for Journal of Quantum Kabbalah C (Cosmogony). But it doesn't convince me much.
In the end it seems more reasonable to accept that the tree is a very human creation with particular cultural origins - Hekhaloth mysticism combined with gnosticism and early numerological/combinatorial speculations, medieval exegetics, renaissance memory arts, victorian masonic symbolism and syncretism. It is a relatively simple graph to hang mountains of associations and speculations on. Not to mention to visualise covered with as much hermetic kitsch as one cares.
After all, when one adds too much stuff to any art it becomes kitsch. Already the color associations of the sephiroth (in any of the four different systems!) makes the sober graph a bit kitschy. By the time Fludd is finished with it we have holy names, cherubs, emanations and the tablets of Moses. Maybe that is one of the important hermetic secrets: esoteric symbolism provides enough gravitas to allow us to enjoy kitsch without guilt. It is a cultural counterweight to the pink flamingos of loose thinking.
To get back to my own image (and its pink flamingos), it does have a few fun features. I made the tree using metaballs hovering above a mirror, producing the internal tree. One is of course welcome to view this as the "opposite" or qlippothic tree, but the most delightful effect is the small inverted trees refracted through the sephiroth. Not unlike the nested trees that sometimes crop up in discussions of the four worlds, but this time suggesting that every sephira contains a small qlippothic tree. Maybe my image is just generally heretic.
Posted by Anders at March 19, 2005 10:20 PM