Promoveatur ut Amoveatur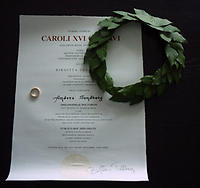 Now it is official: I'm married to science.
Yesterday I participated in the Stockholm University promovation in the City Hall. Yearly academic promovations are local to Sweden and Finland, a remnant of medieval installation ceremonies. The ceremony includes the appointment of new professors, honorary doctors (doctor honoris causa), doctor jubilaris (50-year anniversary doctors) and us garden variety doctores iuvenes. Banner-bearers, speeches in latin, inaugural lectures, faculty fanfares and laurel wreaths: truly classical academic pomp. So now I am equipped with a real laurel wreath (symbol of academic freedom and power) and a doctoral ring (symbol of being married and faithful to science).
What use are such ceremonies and symbols? It is a symbolic initiation both showing society that a person has attained a certain position as well as showing the person that they are recognized, valued and now entering a new sphere of rights and responsibilites.
The problem is as always scaling. Once societies were so small and homogeneous that it was possible for nearly everybody to have a notion of who others were, and a single ceremony was enough to transmit it (reinforced by the use of worn symbols like doctoral hats or rings). Also, the number of promovendi being promoted each year at any university was fairly limited. Yesterday it was clear that the ceremonial machinery was straining under the weight of hundreds of doctors. What would once have involved at least stating the thesis title and maybe a short speech was reduced to a formula and a handshake - and that still took maybe an hour to get through us from the natural science faculty.
As we move towards larger and more complex societies the old rituals need to change. The public recognition part can no longer be done through ceremonies or insignia, but is moving online through searches, CVs and webbed dissertations. Larger universities might have to split up the promovation between the faculties. In the end the most proximal aspect of the ceremony remains: being given recognition in front of those friends and relatives that were invited, as well as the experience of participating in a long-running tradition. While far less utilitarian than the former uses of the ceremony, they are still enjoyable.
I doubt this form of ceremonies will vanish even when they are even more irrelevant or impractical. Human nature thrives on rituals no matter their content, and being able to clearly and strongly - yet pleasantly - announce to oneself that one is now a postdoc is useful. We use the rituals to give our life shape like paragraphs and chapters in a book. The styles can change, but since we send messages to our subconscious using symbols we learn by infusion from our surrounding culture(s) they tend to remain fairly fixed. This lag creates a comfortable tie to the past, necessary since our sense of self is only retrospective and not truly prospective.
Maybe this is also the way of making more radical transhumanist changes manageable to the individual and their social context. So why not uploading ceremonies (Transmetropolitan #7), xox divorces and personality change initiations? Might be fun to invent a symbolic context that makes sense.
Posted by Anders at September 25, 2004 06:10 PM