"Gaia, its hot."
"31 degrees centigrade."
He liked hearing the gun. It gave him a wired feeling.
- Ken Macleod, The Star Fraction
While the technologies for causing actual damage have not advanced significantly, weapons information technology has advanced far. C3I (Command, Communications, Control and Intelligence) systems makes it possible to link together a team so that they can draw on the information from each other in the fog of battle. It also makes smart weapons possible, able to act more or less on their own. Even personal weapons are highly digital, containing everything from documentation and maintenance advice to targeting systems.
Teamware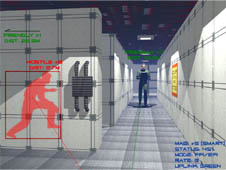 The most common form of C3I systems are teamware, where each team member has a wearable sending information to either some behind-the-lines headquarter or forming a local network. Cameras, position data and status are continuously sent, making it possible to build up a model of where everybody is. In the centralised version the officer at the HQ can then give orders and advice, supported by expert systems and AI ("Red three, two bogeys are approaching from left-behind"). However, the system works even without a HQ allowing the members build up a map over the fighting area from their mutual observations, and software can make estimations of where enemies are from observations and firing angles. Indirect fire becomes possible, as an enemy seen by one team member can be attacked by another team member who has not seen him or through guided weapons.
One often used application is FFI, Friendly Fire Inhibition, which connects the gun to the C3I and inhibits firing (unless overridden) against friendly targets (on Atlantis there is even EFI, Expensive Fire Inhibition - the gun refuses to fire if the cost or potential litigation is beyond the owner's means). The protection is never perfect, but enough to make a teamware team able to deal with enemies right among themselves. The reverse, FD (Foe Detection) disables firing when the gun is not pointed at a designated enemy, making it easier to hit. On Nova drones and local sensors are often included in the teamnet, making it possible to coordinate both human and robot attacks.
Obviously there are some drawbacks. The communications need strong encryption, since if somebody manages to hack the network teamware becomes the enemy's best asset. Another obvious problem is that the team members are more easily detected due to the constant broadcasts by enemies with communications detectors; they are vulnerable against ECM which jam the communications. Some systems use line-of-sight laser communication with support from relay nodes the members drop off. Running the signals through the Net makes the team less conspicuous, but makes them vulnerable if the net is in the hands of the enemy; often C3I teams spread out comdust to build their own local net.
Teamware can be used by individuals too; they do not get any tactical help from any comrades, but they can link up with sensors and other equipment, giving them an enhanced tactical view anyway.
[ Teamware has several effects. It makes tactics rolls for the leader(s) easier. An Ordinary teamware system gives a -1 bonus to Tactics rolls, a Good -2 and an Amazing-3.
People using teamware can fire at enemies not visible to them but to another member or a linked camera at +1; if several team members see an enemy there might not be any penalty at all as the enemy's position is so well defined.
FFI, Friendly Fire Inhibition, increases the difficulty to hit a team member (or a designated friend) with +2 for each level of quality of the system. If the gun is firing autofire at a mix of friends and foes, it makes it possible to inhibit firing when the gun is pointed at the friend; for each friend that could be hit, roll a firearms roll (with a 0,-1 or -2 bonus depending on quality) to avoid hitting him. Before the battle the system must be set to whether to fire or not if enemies stand in front of friends; bullets may still pass through them, and if the system fails to see the friend it may still fire.
EFI works just like FFI, but inhibits firing that would be costly given the information that can be gleaned through the net. It is essentially a small expert system doing cost-benefit analysis on the fly.
FD, Foe Detection, helps inexperienced people hit enemies by disabling firing when the gun is not pointed at a designated foe. Just pressing the trigger and sweeping the gun across the enemy will make it fire as soon as the FD system decides it has a chance to hit. Simple systems just allow firing inside the contours of the enemy, while more sophisticated delays the shot until the gun points at the centre of the figure. This gives a -1, -2 or -3 bonus to hitting. One major drawback is that new enemies might not be eligible targets, and have to be designated (one action) before they can be attacked, something that can be lethal in a big fight. FD is regarded a bit like "trainer wheels" by experts.
Detection of a person using C3I has a –2 bonus when the system uses radio, -1 when using local computer nets and no bonus if stealth radio squirts or line-of-sight laser plus comdust is used.]
Mapping Bullets
Mapping bullets are special bullets that contain wide-angle cameras and a transmitter. When fired they transmit what they see back to the C3I system, making it possible to add a lot of (fuzzy) information to the map without sending people in.
[The bullets do -d6 damage less than normal bullets if used to hit someone or something. Cost twice the ordinary ammo cost.]
Weapon Harnesses
Weapons harnesses are wearables with extra add-ons for C3I, defence and sometimes even offence. One version, the Trillicom Distracter, is able to launch chaff and smoke to protect the wearer from attack when it detects it. More offensive versions exist, with weapons under the control of an expert system and partially the owner; they tend to be quite dangerous to approach.
Motoric Teamware
On Nova, some law enforcement people have used bionics to allow AI to take control of their bodies in a crisis situation, essentially allowing the teamware to use them as drones. It is not very popular.
[Teamware control requires a motor shunt, and either somebody running the person through telepresence (for example a veteran officer or expert on the task) or a motor-equipped teamware system. Motoric teamware is an expert system containing knowledge about how to move, acrobatics, armed or unarmed combat as well as a small AI performing the necessary tasks to reach the objective.]
Smart Weapons
Smart weapons have varying amounts of intelligence in them. Some just link to the C3I and give the owner the ability to shift between types of ammo, see through the aimpoint camera etc. – this kind of connection is necessary for use in teamware, and is practically standard these days. The scramjet bullets of the sabot pistols of Trillicom have built in cameras and some limited steering capabilities. Zetatech's Marksman Gun is equipped with a Nova-designed AI program and can act as a point defence or drone if placed on a tripod or suitable vehicle (although the pricetag deters most people).
---