Beauty is in the Decryption Power of the Beholder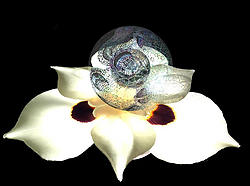 [physics/0505088] Aesthetics and scarcity. A physics perspective on ornament by Karl Svozil.
Does beauty have to have a natural element in order to truly appeal to us? This paper argues that human predispositions inevitably makes aesthetics based on natural forms. In my opinion it does not argue convincingly for this conclusion, but it is filled with good pictures and interesting references.
One assumption that seems plausible is the "law of decryption": we decrypt sensory patterns as a natural part of perception, and if it is too fast and easy we will become bored and if it is too difficult we will be perplexed and irritated. Random noise or monotone modernist architecture are easy to mentally model, a forest isn't - but it still makes sense, so it can be beautiful.
Is it just the information of the pattern (low in regular patterns, high in random ones) that matters? Clearly not. Is it the complexity of the generating process, as Svozil suggests? I find that hard to believe, since we do not find the patterns created by very complex organisms orders of magnitude more beautiful than the patterns of organisms orders of magnitude simpler. The genetic network of even a simple bacterium is beyond our perceptual and cognitive ability to parse. Beyond a fairly low point any generating process becomes mystery. But many generating processes still possess modularity enough for us to enjoy ynderstanding them on a phenomenal level. The Mount Everest or forest images in the paper consist of interleaved modules (trees, leaves, glaciers, rivers) that each can be understood and analysed, yet still form part of a greater whole. The processes behind a river shape or a tree still remain too complex to understand, but again we make use of our limited knowledge and construct a partial model that is "good enough". A deeper understanding produces a deeper sense of beauty since we can go deeper into the algorithm.
But this view suggests that it is not naturalness per se that we enjoy, but rather complex, deeply modular objects. Nature is better at creating them than humans, although I think we are getting there with things like Venice or the Internet.
In my opinion there are better arguments that naturalness speaks to us than arguments from information theory. We have co-evolved with our environment, and whatever use the sense of beauty has (if any; it could just be an accident of our mental architecture that is fitness-neutral) it seems unlikely that the baseline of how we perceive the beauty of the environment would evolve to be negative.
A simple explanation of beauty is that most things we find beautiful are survival-enhancing: just as we have an innate delight for sweet things (until we learn about calories) we have built-in preferences for things that helped us survive in ancestral environments. Just look at the most wanted paintings, and note how everybody but the Dutch want a lake with a tree and some hills. Access to water, food, shade and defense. These basic survival-enhancing detection systems have become extended to far more objects, activities and goals than originally, just as our working memory, planning abilities or sense of rhythm have gained new uses. This instrumentalistic view of beauty fits in with the view where art is seen as the process producing an artifact; "helping nature become more fully realized". Here the survival perspective becomes a project of teleology.
Of course, art might also be something entirely neutral. This is more akin to Scott McCloud's theory in Understanding Comics (ha! got another McCloud reference into my blog! Where will it stop?). Art is simply something we do because we can, and serves no particular purpose. It could of course produce new things that serve purposes or generate them in us, but art is basically for art's sake. Not sure I believe that explanation, but neutral evolution can do many strange things. I noticed a paper about Nabokov's theories on insect mimicry that argued that he was actually prefiguring neutral evolution. Maybe art is just an expression of biological exuberance, something utterly random and contingent.
A fun paper explored how flowers affect mood (they improve it, surprisingly enough). It points out that enjoyment of flowers does not seem to be culturally learned. Maybe flowers have actually evolved towards being strong positive emotion signals not just towards pollinating species but other species too? After all, it seems unlikely that we enjoy flowers so much because they told our ancestors a likely future food source; then we would enjoy verdant and healthy vegetation even more. The paper suggests that we are primed to easily learn the association flower-happiness because our brains happen to react well to their colors, shapes and scents, perhaps as super-stimuli.
This gets some support from the studies of Ghirlanda & Enquist and Bullock & Cliff of co-evolving visual systems and patterns. They found an evolution towards bright colors and symmetric patterns and networks good at detecting them. Flowers have evolved towards this goal very strongly, and we non-pollinators might simply react to them as supernormal stimuli to our perceptual systems. This might fit in nicely with the neuroaesthetics of Vilayanur S. Ramachandran. Still, that leaves much to be explained. For example, why do we experience harmony?
Anyway, to wrap things up, I think Svozil paper has some interesting points about how scarcity of resources caused the modernist anti-natural aesthetic. But I think his analysis about the beauty-poverty of economically poor people today doesn't work. His argument is that since real beauty is based on natural patterns it will require craftmanship, and that makes it too expensive for the lower classes. A poor person today may not afford fine parquet flooring, but he can certainly afford replicas. In fact, if one looks at a lower class home today one will find a tremendous amount of decorations, many of which are either natural or depict natural beauty. Popular "Hötorgskonst" often depict scenes of great natural beauty - but is deeply devalued by aesthetes because of its "cheap thrills". But maybe this is more because aesthetes develop a refined aesthetics to separate themselves from the masses? If everybody enjoys it, it isn't fine art.
One can of course make a case that high art is art that stimulates higher cognitive processes than art that merely delights the lower visual system. High beauty would be beauty with layers of meaning (requiring decryption), while low beauty just stimulates the right pattern detectors. This of course ensures that the aesthetes, who spend much time cogitating on beauty, will be the experts on high beauty while the hoi polloi will at best be amateurs and creators of low beauty. There is some truth in this; quite a few people lack taste, which means they combine individually beautiful elements into a larger picture that lacks cohesion. The underlying pattern becomes merely random, rather than some integral logic determining what goes where. But this has little to do with lack of resources.
Svozil makes a good point about virtual environments needing more naturalness to be worth interacting and living in. Today we place dirt in the corners of photorealistic images by hand; we need software that allows us to simulate environments that have been subjected to virtual weather and being lived in (maybe by having agents do the living, spreading dirt by walking, dropping and picking up papers and objects etc). An environment that lacks this lacks the multisensory history of a real environment, and our brains immediately get bored. It is not enough to place it randomly, there has to be the hidden patterns that allow our cortical Sherlock Holmes to deduce how people have moved in a room or what kind of activity had occured on the desk before. Maybe the first step to a truly useful windowing system is to add dirt?
Posted by Anders3 at June 15, 2005 01:12 AM