Miscellanous Technology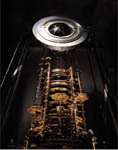 ---
Sections

Transport
Exoskeletons
Interaction
Robotics
Energy
Other Sites
Books
See Also
---

Future Technology Page by David Cary.


This Week's Fun Transhumanist Articles My own irregular collection of fun papers I find in scientific journals.


We will shortly be landing offshore by Tom Standage. Building large structures at sea.


The Earthquake Resistant (EQR) Biosphere. A spherical building intended to withstand earthquakes and other disruption.
Transport

Ornithopters.


The Past and Future of Global Mobility by Andreas Schafer and David Victor (Scientific American).
Exoskeletons

The Springwalker. An exoskeleton giving humans kangaroo-like abilities.


Project Grizzly Suit. An exoskeleton for grizzly bear encounters.
Interaction

Virtual Retinal Display (VRD) Project. A display where lasers project the image directly onto the retina.


The Last Book by J. Jacobson, B. Comiskey, C. Turner, J. Albert, and P. Tsao (IBM systems journal Vol 36, No. 3). Programmable paper, which could enable the creation of the "universal book".


Rethinking Ink: printing the pages of an electronic book By Ivars Peterson (Science News).

Robotics

Fractal Shape Changing Robots. Robots built out of smaller cubes, able to slide about and form adaptive structures.


Progress reports for Fractal branching ultra-dexterous robots (Bush robots) at Carnegie Mellon University.


Distributed Robotics. DARPA program in extremely small robots, reconfigurable robots, systems of robots, biologically- inspired designs, innovative methods of robot control including innovative interfaces, and methods of implementing pooled capabilities and/or layered intelligence

Energy

Antimatter Confinement


OTEC - Ocean Thermal Energy Converter. A way of extracting energy from seawater, or rather, from the temperature difference between the surface and deep sea. Likely very useful for artificial islands.


Global Energy Network Institute. Promotes inter-continental power distribution.

Other Sites

UNISCI Research News From American Universities

AIP Weekly Physics News

The Armchair Scientist - Science & Technology Magazine

New England Journal of Medicine On-line

Technology Review

Science News

FreakTech - news for tech freaks.


Eurekalert


Science Daily
Books
See also

General Technology Page