Come over to the dark side...we have candy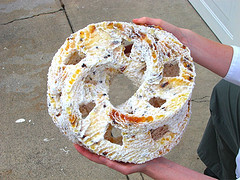 Evil Mad Scientist Laboratories - Solid freeform fabrication: DIY, on the cheap, and made of pure sugar. Photoset here.
Solid freeform fabrication is cool, making elaborate sugar confections is cool, so the combination is of course cool squared. And, as the essay shows, surprisingly cheap and simple if you do not aim for submilimeter precision.
The bakery potential is awesome. And it shows how fabbing is gradually becoming ever more practical. If the Lego Group is not buying fabbing stock or planning their own fabber it will be outcompeted by homeprinted pieces. Together with printable plastic electronics this is going to change everyday life in truly unexpected ways in a few years. Hmm, I wonder if we can achieve edible plastic electronics? Since the environmental impact will be important for all forms of fabbing, aiming for edibility might be a good long term goal.
Maybe the gingerbread cottage of the witch was a good idea, after all.
[ Overall, the site has many other great projects. I especially liked making Sierpinski triangles with clay ]
Posted by Anders3 at December 14, 2007 04:53 PM