Kleinian Spheres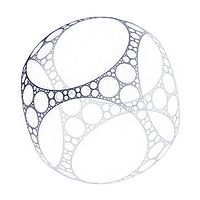 Last year I got Indra's Pearls: The Vision of Felix Klein by David Mumford, Caroline Series & David Wright as a Christmas present. A wonderful book about the fractals, topologies and groups generated by Kleinian groups in the complex plane.
But what about generalising these wonderful fractals to three dimensions? Leaving out the richness of the full Möbius transformation and just looking at inversions in spheres produces some neat images.
I placed 8 unit spheres on the corners (±K,±K,±K) of a side 2K cube. Then I just iterated a point being inverted by a randomly selected sphere (if the point is xn and the sphere center is c, xn+1=c+(xn-c)/||xn-c||2 ). The result is a family of nice attractors.
For K increasing from 0.7 to 1.0 in steps of 0.05 we get the following images (click to enlarge):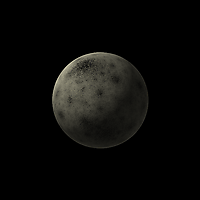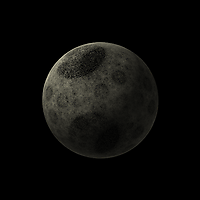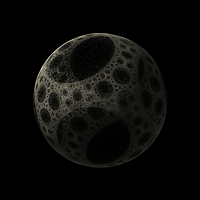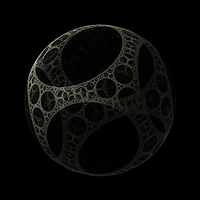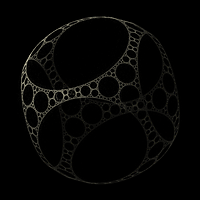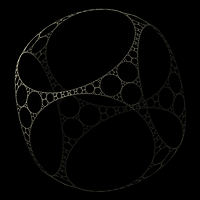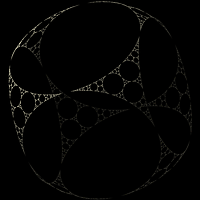 Here I used a simple z-buffer algorithm in Matlab, assuming a surface normal directed away from the origin and changing the luminosity proportional to the logarithm of the number of points falling inside a pixel, which made the shadow side a bit more interesting. One has to do a bit of trickery to get the points into the narrow regions by often inverting through adjacent pairs of spheres (the method used in Indra's Pearls is a depth first search instead).
When K=1, the spheres just touch each other. A circle through the corners of a cube face will be invariant under inversion through the four corner spheres, since it intersects each of the spheres at right angles. Hence these circles are part of the invariant set, and form a kind of cuboctahedron. But the three circles not belonging to a particular sphere will be mapped onto smaller circles inside the triangular face, tangent to the nearby circles. And so on. We get an Apollonian gasket.
This corresponds to the 2D case where the generating circles are tangent to each other. See Pat's inversion applet for an interactive demonstration.
For smaller K the invariant circles are no longer tangent to each other and produce a more complex attractor structure where the big circle images lie inside a mass of other circles. As K is changed the inversions may cause them to be mapped across each other, producing messier attractor setss. Here I'm not sure whether they correspond to an union of gaskets or form a dense set (that does not correspond to a discrete group). When K approaches 1/sqrt(3) the attractor definitely seems to become a dense covering of the sphere meeting the other spheres othogonally. For smaller K yet, the attractor appears to be the entire space R3, with a high density of points close to the origin but no structure.
For large K we get a Schottky group of separated points, similar to a Cantor or a Fatou set.
One can do the same thing with an octahedral arrangement of spheres, this time for K=1.25: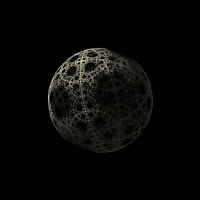 I only know one other generalisation of Klein fractals to 3D, the paper Sphairahedral Approach to Parameterize Visible Three Dimensional Quasi-Fuchsian Fractals by Kazushi Ahara & Yoshiaki Araki (they also have a website about crystal models). They create a polygonalized representation by by building up the fractal from "sphairahedra", polyhedra with spherical polygon faces and corners meeting in mutual tangents. They produce amazing results, but can only handle positive measure fractals.
Knots and Links

One can also use other things than polyhedra for sphere centers. One interesting choice is to use a knot. According to a theorem by Maskit (I think, see Topology of Kleinian Groups in Several Dimensions by Michael Kapovich) the invariant set of a family of a quasi-Fuchsian group is either topologically equivalent to a circle or to a wild knot. A tame knot is a knot which can be turned into a polygon with a finite number of corners through a smooth transformation - wild knots cannot.
If one places spheres tangent to each other as a chain along the length of a knot, then there will be some kind of invariant set running through them. But for each sphere the set on its outside will be knotted, and hence mapped to a small knot on its inside. Hence the big knot will produce smaller knots along the set, and these knots will in turn be reflected in the other spheres and so on. In the end, we get a wild knot.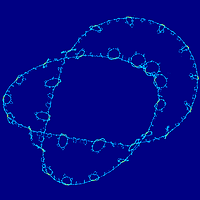 (While making this entry I found Peter Liepa's wild knot page with the same idea, and an interactive java3d model)
This trick is general and can be applied to any knot. The problem is to arrange the spheres so that they are all tangent. Normal parametrisations of knots produce an uneven distribution of spheres; some careful adjustment is needed.
One can also start out by two linked circles ("necklaces") of spheres. The subgroup generated by the inversions of one circle will of course leave the linking circle invariant. But that circle will be mapped to a smaller linked circle surrounding the invariant circle of a sphere on the opposite necklace. This way both circles become mapped to an infinity of smaller circles linked to the main invariant circles - and of course, each of these small circles will carry their own links. This is a wild link rather than a wild knot.
Posted by Anders3 at November 25, 2005 03:24 PM