Keys of the Heart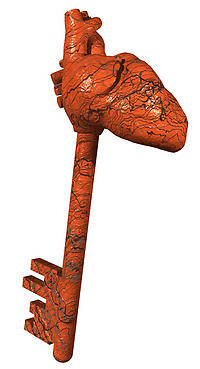 ECG to identify individuals by Steven A. Israel, John M. Irvine, Andrew Cheng, Mark D. Wiederhold and Brenda K. Wiederhold. (Pattern Recognition Volume 38, Issue 1 , January 2005, Pages 133-142)
It sounds like a plot device in a Mission: Impossible episode: "But that is not all, team. The vault is protected by a heartbeat recognition system."
The system works by first measuring the heartbeat. It then filters out noise and drift with a bandpass filter. It is usually hard to avoid getting some of the 50/60
Hz hum from power outlets and slow drift up and down as the contact between the electrode and the skin changes. Then it finds the heartbeat pattern, stretches it to compensate for fast or slow beats (which depends on stress) and measures the time between different parts of the beat (detected by changes in curvature of the time-voltage curve). This produces 15 numbers that characterize the beat, and can be used in a standard machine learning method to create a classifier that identifies people using their beat.
According to the paper this works pretty well, both for different electrode placements and heart rates. It gets the person right in 87% (or better) of the cases, and handles different stress levels and placements well. The authors are of course suggesting that it is a viable biometric.
I don't think it would work as a stand-alone biometric. Even getting a 99% recognition rate means that every hundredth person will fail the test. Weighing together several biometrics (iris or retinal scans, face recognition, fingerprint etc) would make identification more robust. The study also tested the system for about a dozen subjects. Given that there were 15 features used to identify them, it is not a very hard learning problem. I think it will be much less effective on larger groups, where people are more likely to have similar beats. There isn't that much room for individual differences in heartbeats, at least not among healthy people.
Heartbeats are relatively easily recorded, and it seems one could steal one with the right equipment. Record the beat, place an electrode (with insulation beneath to hide the real heartbeat) on the chest, link it to a player sending the signals back and apply the biometric electrode when trying to get in. This can be avoided by having a person do the biometric check, but if you have guards at the access control, why bother much with the biometrics in the first place?
Posted by Anders3 at September 6, 2005 05:48 PM