Saving Sweden from the Doom that Befell Stockholm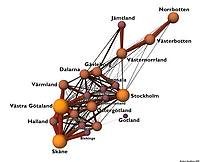 [q-bio/0505044] The effect of travel restrictions on the spread of a highly contagious disease in Sweden
A preprint dealing with how a SARS-like disease might spread in Sweden, and how banning long distance travel could reduce the outbreak.
The outbreak scenario starts with a single infected individual in Stockholm. People move between the categories S (susceptible), Latent (infected but not infectious), I (infectious) and R (recovered and/or immune) with different probabilities, and are assumed to move around based on travel intensity data (from a 2002 study looking at how many people travelled between different municipalities). Three different levels of infectiousness and three levels of travel restrictions were tested - free travel, a ban on trips longer than 50 km and a ban on 20 km trips.
The results were fairly robust: even banning 50 km trips kept the outbreak largely within Svealand (the region around Stockholm) regardless of infectiousness (worst case scenario had tens of thousands infected in Stockholm, the best still a few thousand). Cities far away from the center of infection like Gothenburg and Malmö were well protected.
Is such a ban doable in practice? Legally it seems the government does have the authority to do it in the case of a potentially serious epidemic. Shutting down flights, inter muncipality bus-lines and passenger trains is fairly easy to arrange (after all, they tend to shut down spontanously from time to time :-) Northern Sweden would be hardest hit (long distances between cities), but would also likely avoid infection altogether.
The interesting thing about the study is that it shows that something milder than a full quarantine can limit the spread of an epidemic. This is an approach that does not rely on absolute protection, but just reducing the number of high-throughput links in the disease transmission network. While preventing epidemics might be one of the most legitimate uses of government coercion around, one would prefer to reduce the amount of coercion needed.
It remains to be seen if this approach works in other countries. Sweden has a fairly small population and few metropolitan areas, and intra-area transport is about 2.6 times bigger than inter-area transport (based on the data below). A more evenly populated country with stronger people flows might be harder to handle. But I would bet this is a scale-free result: another country might need another cut-off distance, but by cutting the long-range links first the epidemics is nipped in the bud.
There is still the problem of handling the core epidemic around the initial person; maybe a similar approach but on a smaller scale would work here?
There are some cool graphs in the paper of intra-municipal travel intensities based on data from SIKA. I couldn't find the exact data, but as a consolation I plotted the tonnage of goods transported by road between the counties in the graph at the top of this entry. Color and line width proportional to tonnage, volume of the spheres represent intra-county transports. Note that the translucent arrows allow one to (waguely) see in what direction the goods flow (e.g. Norrbotten sends much less goods to Västerbotten than vice versa).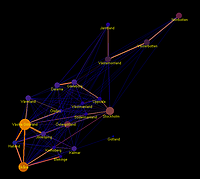 Originally I did a 2D version using Matlab, as seen to the right. However, I couldn't sleep tonight (honest!) thinking about how bad it looked.
Posted by Anders at May 26, 2005 09:54 PM