Airport Art
One thing I like about Brussels Airport is the art. Most airports have some art, but BRU actually has a lot of it.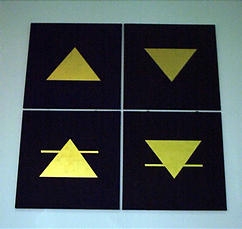 My personal favorite is Swimberghe's "The Four Elements": the symbols of the four elements in goldleaf on square fields of indigo. It is a large piece hanging somewhat forgotten on a wall to the right of the arrivals desks. The contrast between the wall, the squares and the gold is quite breathtaking. It is very reminiscent of 4 of disks in the Thoth tarot; the airport as a castle of power.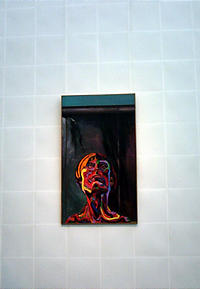 In general the huge walls of airports work well for monumental art, while the smaller passages leaves room for more person-sized experiences. Szymkowicz's dreaming head in front of the escalators is perfect to watch as one gets lost among the levels (BRU is an unusually vertical airport, and one is forced to go up and down escalators far too often - isn't Belgium supposed to be flat?).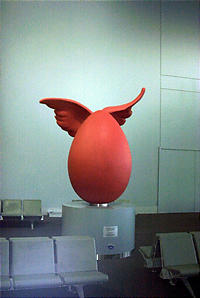 The terracotta flying egg at gate A40 manages to be both heavy and light at the same time (although Swedish passengers might get a slightly irreverent association to "The Fighting Ägg" of Leif :-).
Of course, as with all public art there are plenty of things that doesn't speak to me, or produce the exclamation "I could do that too!". But surprisingly much is accessible and fun - be it crystal mushroom seats, statues of men with propeller heads, geometric diagrams enscribing classic art or the spare-part robot-with-planet sculpture. It is unusual that there are so few corporate art metal piles like Moeschal's "The Airway" or the boring neon avenues at the long connection tunnel. Maybe the airport authorities have realized that the art is for the customers rather than to show that the airport cares about culture. If only politicians thought that way.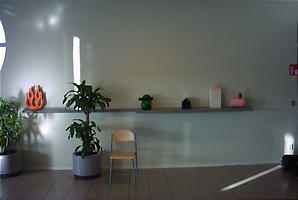 I noticed a cute little piece at Bromma airport too. Something in between a set of icons and a sculptural cartoon. Perfect to while away the wait with.




Posted by Anders at October 9, 2004 01:43 PM