Maps of the academic neighbourhood
I played around with the bibliography file of my research group as a bit of exercise for our course on complex networks. Here are some results, perhaps more interesting as visualisation exercises than for their actual content, unless you happen to be in the SANS group of course.
A graph showing co-authorship of papers (the small ellipses). The fontsizes of the people boxes are proportional to the log of the number of published papers (to avoid professor Lansner swamping us all), the paleness the time since last publication and the color of the articles their age (red 2004, blue sometime in the 1980's).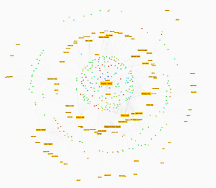 It is worth noting how much Sten Grillner's research group at the Nobel Institute for Neurophysiology is mixed up with the Sans group; there is a long-standing collaboration on lamprey locomotion here. It is also interesting to see how the clouds of papers to the left indicate the time certain lines of research and researchers were active.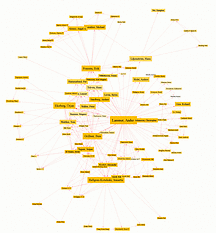 Here is the pure co-authorship graph, where people who have written paper together are joined. The color of the link shows the number of papers.
Note how one can see different external research groups (like Mike Hasselmo's at the top) and internal research topics (the ANN side of Sans to the right, the more biological neural network projects along the left).
These images were made by exporting from Endnote into the Refer format, which is easily parsed. I used Matlab (as always :-) to produce a file readable by Graphviz. Matlab might not be the best string handling language around, but it is good for taking statistics and making interesting color calculations. Neato, the graphviz layout program, turned out to have numerical stability problems when I used longer edges; it might have to do with the density of these graphs.
Finally I tried a 3D layout using my own graph layout program Legba: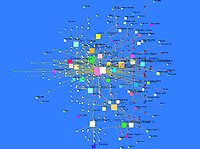 Here people were constrained to the x-y plane, while papers were constrained to fixed x-positions depending on age. It looks much better in 3D of course, although the coloring is admittedly an eyesore. An interesting effect of this visualization is that one can not just see topic clusters but when different people were active.

Posted by Anders at April 17, 2004 08:00 PM