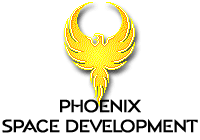 Introduction
At present there are no off-planet permanent habitats. Given the current trends of dragon expansion and the inability of current methods to contain the spread, there is a real risk that a large part or the Earth's entire biosphere will be uninhabitable by humans in 2100. The market for space habitation will increase significantly over the next 40 years if this occurs, especially if other dangers such as neogenetic terrorism or emerging replicators continue to rise.
Phoenix Space Development will build the necessary infrastructure for permanent space habitation. At present the need for such infrastructure is slight, but given the growth predictions that if space colonisation becomes necessary or desirable an initial investment will return at least four orders of magnitude profit. Since space infrastructure development takes long time, it is necessary to begin very early in order to reach the window of maximum profitability. If development is delayed, then the infrastructure will not be ready in time for the colonisation demand.
Vision
In 2060, Phoenix Space Development will be the largest operator or owner of the space manufacturing base necessary for the large-scale colonisation and industrialisation of space. By its strategic position in the expanding space economy it will guarantee large long-term investment payoffs for the foreseeable future.
Mission
Our mission is to design, develop, manufacture and market space industrial and habitat capacity to meet the needs of internationalist and nationalist customer groups. Phoenix Space Development will develop the industry needed for space settlement and give a feasibility proof by example. We will sell the products or industry base to other space development efforts as well as major terrestrial organisations.
Objectives
<![if !supportLists]>1. <![endif]>Initial construction/lease of a LEO space habitat for permanent construction crew presence in space.
<![if !supportLists]>2. <![endif]>Construction of an initial mining infrastructure for materials production.
<![if !supportLists]>3. <![endif]>Construction of an initial manufacturing infrastructure for space habitat construction.
<![if !supportLists]>4. <![endif]>Construction of large scale space power systems for internal and commercial energy production.
<![if !supportLists]>5. <![endif]>Construction of a permanent habitat.
<![if !supportLists]>6. <![endif]>Bootstrapping of this infrastructure to meet customer demands.
Strengths, Weaknesses, Threats & Opportunities
Strengths
Much R&D effort on space habitation and mining already completed by other groups or in the public domain.
Initial product can evolve into range of offerings
Large potential customer base
Weaknesses
Long timespan before profitability
High costs of launch
Limited launch capacity available, has to be leased
Emerging new technologies may move market in new directions
Threats
Major player may enter targeted market segment
Risks of launch and space accidents
Economic slowdown could reduce risk capital
Dragon management solutions limit demand for space settlement
Market segment's growth could attract major competition
Relatively few launch sites available; local politics could be an issue
Opportunities
Scope to diversify into related market segments
Strategic alliances with other corporations
Values
The corporate values governing Phoenix Space Development's expansion will include the following:
Phoenix Space Development operates in accordance with the highest standards in all relationships with customers, suppliers, environment and the community.
Phoenix Space Development fosters a climate which encourages innovation and diligence amongst staff and rewards accordingly.
Key Strategies
Phoenix Space Development seeks to achieve minimal cost maximum return space development.
Automation and neogenetics will be extensively emplyed where applicable.
As new technology becomes available it will be integrated in the evolving infrastructure strategy.
Contingency plans for different technologies and developments
Diversification? Organic growth? Acquisition plans?
Strategic alliances with launch firms, aerospace industry, ecodesign, advanced materials production, TAGs etc.
Appoint advisers for space engineering and finance
Extend links with key technology centres
Strengthen human resources function and introduce share options for staff
Raise additional venture capital
Seek new market segments/applications for products
Goals
First construction crew in orbit 2041
Initial mining of moon or asteroid in 2044
First orbital factory unit 2047
Solar power distribution 2050
Habitat 2053
Programs
The following strategic action programs will be implemented:
CEO: Prepare comprehensive business plan and develop contacts to raise VC within 6-9 months.
CFO: Recruit Marketing Director and other key staff for marketing/sales and HR Director within 3-4 months.
TechDir: Review R and D resources and scope for technical alliances - expand with arrival of VC.
Board: Expand BoD to include further independent financial, technical and industrial expertise prior to seeking VC.
All: Develop and implement accelerated market entry and development plans.